What Is Salesforce CRM & What Does It Do?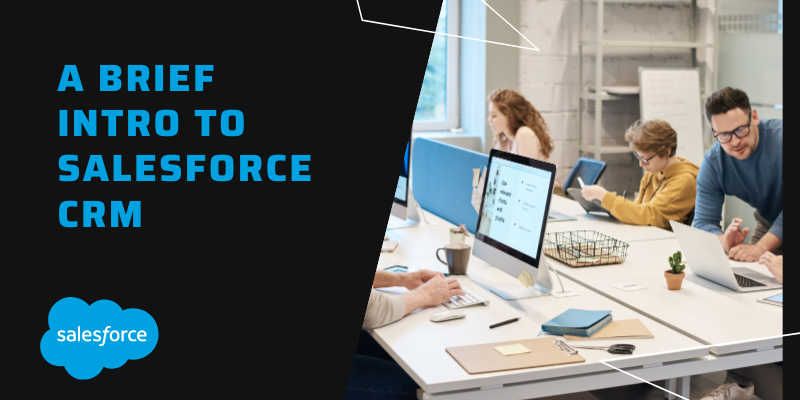 An acronym for Customer Relationship Management (CRM), allows companies to interact with their customers and collect information from anywhere they need over the Internet.
CRM Salesforce system, a well-organized cloud-based platform offers information to its customers from varied sources. Moreover, it's a customer-centric system that integrates information of customers for the benefit of an organization.
Salesforce assists in breaking down technology silos in the client's organization between the departments, regardless of their location, also the employees in sales, marketing, service, commerce, and IT share only a single customer view. This facilitates a deep understanding of customers on one CRM platform. We can also name it Salesforce Customer 360 as it offers you a complete, 360-degree view of your customers.
Today, we are here with a post that will let you know about Salesforce CRM, its working, and a lot more. So, keep reading to know various unknown facts about Salesforce CRM. Let's start.
What is Salesforce CRM and What Does it Do?
An American cloud-based software brand that is headquartered in San Francisco, California, Salesforce is a leader in cloud technology. The name of their flagship product, Salesforce, is a highly customizable CRM with appealing, outstanding features, such as Opportunity Forecasting, Web to Lead, Email and Campaign management, Weeding out duplicate leads, Google Apps Integration, and more, along with its standard features, like Opportunity Management, Account, Contact, and Lead.
Salesforce CRM is a reliable CRM app that is developed on the Force.com platform and manages entire customer interactions belonging to an organization all through distinct media, such as site email inquiries, phone calls, social media, as well as, communities. Salesforce manages all the customer relationships, by targeting marketing, sales, and support processes. This is achieved by working with the standard objects, such as Contact, Product, Lead, Account, and more, and also by permitting the relationships between them.
What Makes Salesforce CRM Popular?
Salesforce has extended its platform to support even some complex business scenarios. In the market also, it has proved that it only needs 1/5th of the development cost and effort as compared to a normal app.
In Salesforce, Customer Relationship Management (CRM) performs perfectly by handling the standard objects and maintaining the links between them and the standard built-in functionalities. Furthermore, it is developed on the below distinct sorts of clouds:
Sales Cloud
A fully customizable product, Sales Cloud handles all the customer information together, in an integrated platform that includes lead generation, marketing, business analytics, and customer service, and offers access to various apps through the AppExchange.
The work of Sales Cloud chiefly depends on Account, Opportunity, and Contact objects. Further, Lead can be transformed into contact, account, and opportunity objects, which is an essential in-built functionality of the Sales Cloud. On adding custom fields to the lead object, mapping is set for them. Opportunities are perfectly handled by offering them distinct stages and probabilities.
Service Cloud
Well, in the Service cloud, the base objects are solutions and cases. Here, a Service Executive is permitted to craft a case on a customer complaint or inquiry, and next, the corresponding solution is stored in the solution object. There exist some standard functionalities also, such as email to a case that automatically crafts a new case in the CRM on each customer email.
Marketing Cloud
A marketing platform, Marketing Cloud arrives with various tools that are developed to manage the interaction of a brand with its current clients efficiently all across many channels.
The technology-powering tool permits us to manage marketing activities more efficiently and effectively. The platform permits them to create multichannel experiences, contact customers at the right time, on the right channel, and increase sales and customer acquisition. Marketing Cloud makes it simpler than ever to plan, analyze, monitor, and make decisions even in real-time.
Custom Cloud
Well, Custom fields in Salesforce can be added to standard objects, and can also create custom workflows. For custom views and business logic, associated apex classes and Visualforce pages can be utilized. All of such customization ease makes it possible to meet any need that a CRM user asks for.
Salesforce Analytics
Each CRM app should hold the caliber to reveal reports with data stored in it. In Salesforce, the feature of the 'Reports and Dashboards' allows effective analytics.
Various standard reports are associated with the standard objects. Every report can be utilized to craft dashboard components, such as graphs. Standard Reports are stored in the folders that are available in Salesforce. This way it becomes easy to find the reports.
Salesforce Automation
Referred to as software applications for sales management, Salesforce Automation (SFA_) offers automated workflows that build a smooth sales process to handle business leads, team performance, and sales forecasts. It's also referred to as Salesforce Management.
The features of Salesforce Automation include managing emails, tracking leads, notifications, assigning tasks, approvals, etc. This CRM handles all the automation needed for marketing, sales, and service processes.
Who can use the Salesforce CRM?
Well, Salesforce CRM is for everyone, so anyone can use it. Salesforce comes with varied editions that fulfill the needs of distinct users. It provides different editions, such as Professional, Group, Performance (for Sales Cloud), and Enterprise. The organizations are allowed to pick the Salesforce CRM edition as per their goals, and the features they need.
Note: Each edition charges a different amount.
What does Salesforce do?
Salesforce works well in all the areas of customer relationships, starting from marketing to service. Any organization which needs to handle their customer relationships holistically, can use Salesforce with the help of Salesforce consultants without any delay and wasting its money for hardware infrastructure or software development.
For Customer Support: Used widely in the customer support domain, Salesforce can resolve customer complaints and queries easily. Salesforce Service Cloud can help you with service delivery to your customers or offer you customer operations support.
To handle contacts and accounts: Salesforce permits you to save all your account details and contacts to be saved in a specific centralized place offered by Salesforce itself. Your customers, vendors, or clients are permitted to view all such information if it's shared with them. Salesforce also permits you to synchronize the entire data from your account.
Conclusion
Salesforce CRM is ruling the world since its origin as the #1 CRM. Many companies have adopted it as it lowers down the app development time as compared to other systems. Moreover, Salesforce demands no infrastructure, which leads to reduced costs for developing apps. Also, it assists in increasing the efficiency and productivity of employees. So, you should also try integrating Salesforce with your business soon.
Well, it may sound quite hard to apply Salesforce in your enterprise, especially if you don't have the resources to change it for your business requirements and also enhance and maintain it for you daily.
Here, at this moment, you may hire a Salesforce development company to resolve all your issues that interfere while applying Salesforce. You may contact the company you hire for detailed insight into how Salesforce can assist your business to become extra flexible, and according to your customer and market requirements.