How To Ensure That Your Business Remains Legally Compliant
Meeting legal obligations may appear to be an easy and obvious management responsibility; however, it is essential for business owners to take into account that fulfilling the legal minimum requirements might result in missed opportunities and legal disputes. Business owners who take the time and consideration to acknowledge the several different rules and regulations that govern the businesses of any specific state may reap the rewards of the business benefits that come with remaining legally compliant at all times. 
A common way that most businesses persist in legal compliance is by having the means to find a registered agent who has the ability to serve any specific business by being the point of contact between the company and the state government.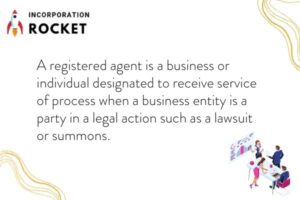 How Registered Agents Assist in Legal Compliance for Businesses
The role of registered agents in the American business sector is significantly crucial and potentially requires careful consideration to meet all essential business and legal demands. A registered agent may be explained as an instrument of the law that serves the business by means of accepting and corresponding between the legal business entity and the state. A core responsibility of registered agents is to obtain all formal written communications and legal correspondence from the state government on behalf of the business and communicate between the two simultaneously in order to ensure the company is legally compliant and the law is not being broken.  
This point of contact includes services of process from the registered agent to obtain and comprehend tax documents, notifications from the Secretary of State, and any other legal formalities from the government on behalf of the business. Once received, the process follows by which the registered agent supplies all documentation and requirements to the company to complete.  
General duties of a registered agent may potentially be very similar nationwide; the specific responsibilities may vary in accordance with the determination by each particular state law and management by each individual Secretary of State office. Among the essential duties listed for the matters of a corporation that include filing of the articles of incorporation with the state government, most states expect a formally registered agent to be listed. . 
Can Business Owners be their Own Registered Agent? 
Should businesses not want to register a formally registered agency service, there is the possibility that the company itself may serve as its own registered agent in all 50 U.S states. Although there are simple requirements to meet, business owners are allowed to act as their own registered agents. A few of the requirements include simple matters such as; being a legal adult of the age of 18; being available during business hours; and maintaining a physical address within the same state as your business operates. 
However, it may be assumed that because business owners can potentially be their own registered agents, it does not necessarily mean that they should since this responsibility comes with an array of complex and challenging tasks that demand attention out of ordinary business duties and responsibilities. Since U.S law requires registered agents to be available during all regular business hours, it may not be a viable option for business owners to maintain the standard since it could potentially result in missing a delivery or an important breakthrough that requires attention, resulting in a probable unfortunate legal dispute. A professional registered agent service may have the ability to ease any specific business owner's peace of mind when it comes to obtaining documents deliveries and important legal correspondence. 
The Importance of a Registered Agent
The importance of a business owner acquiring a registered agent goes far beyond the necessity of helping the business remain legally compliant. Although registered agents may seem like an unimportant middle man role, registered agents fulfill an essential task by corresponding between businesses and state regulations. Since a registered agent is a legal business requirement, business owners may potentially encounter unfavorable legal trouble should they possibly fail to designate or maintain a registered agent. Another essential role a registered agent plays is facilitating the court system by proving the legal process is served following the correct probable requirements.
A registered agent is responsible for ensuring both the state and the business may have a means of consistency when it comes to disputing anything of a legal nature. Without a registered agent, businesses may potentially stall lawsuits, leading them into more probable legal trouble. Registered agent laws are important to both the businesses and the Secretary of State since they allow for legal proof and formality following the service of process that every legal matter is handled correctly by the proper channel.