Atoll Boards Offering Bulk Discounts on Signature iSUPs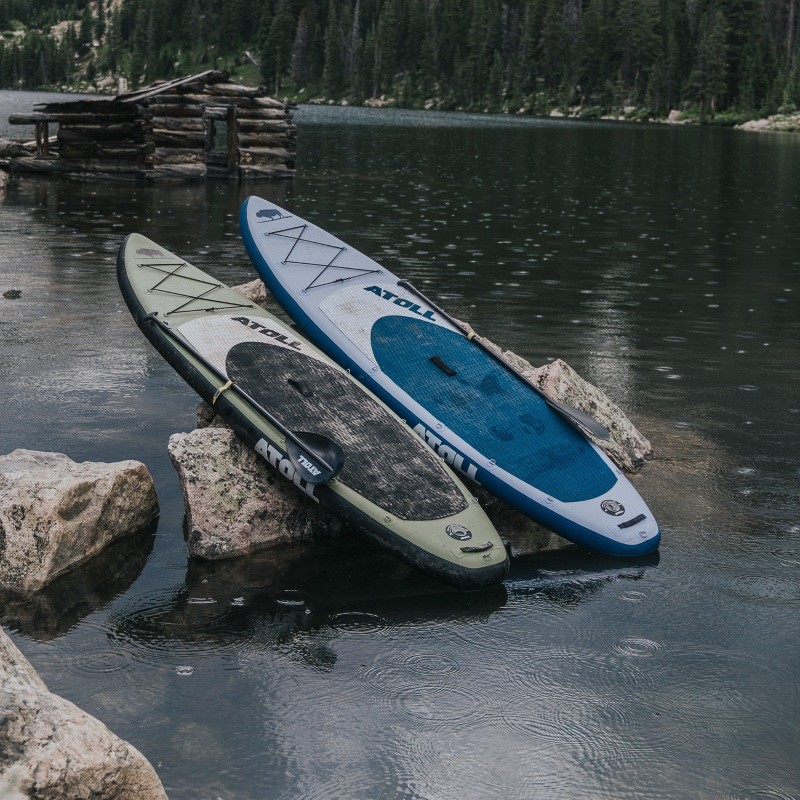 HUNTINGTON BEACH, Calif.
As the temperatures slowly but surely begin to rise around the world, more and more members of the stand-up paddle board (SUP) community are starting to prepare for paddling season. While the waters will still be chilly for a little bit longer, now is the time to order what one might need before the warmer weather is finally here. To that end, SUP consumers may be interested to learn that Atoll Boards is currently offering bulk discounts on its signature inflatable SUPs (iSUPs).
Until further notice, the brand is offering discounts on orders of two, three, or four boards, all of which receive separate markdowns. With the purchase of two Atoll Boards, one will receive $100.00 off; with three iSUPs, those savings rise to $225.00; and, last but not least, with four boards, one can save up to $400.00 on their final purchase. Suffice it to say, now is an optimal place to place an order with Atoll Boards, especially for those who are in need of more than one SUP.
As if this wasn't enticing enough, the promotion applies to both their 11-foot and nine-foot models. While the original Atoll Board is 11 feet long, 32 inches wide, and six inches thick, the smaller version trims these numbers down to nine feet long and 30 inches wide while keeping the board six inches thick for maximum durability, toughness, etc. Both boards are exceptionally lightweight and resilient, as they are made from machine-laminated dual layer PVC, the strongest and lightest material available. 
In fact, as a testament to its strength, the 11-foot model can support individual riders of up to 315 pounds as well as groups of up to 500 pounds. While the company has yet to officially state the nine-foot board's specifications in this regard, one can safely assume that they are likely similar to those of the 11-foot model; albeit, probably a little bit smaller, of course. This is perfectly fine, however, as the nine-foot board was built with smaller and younger paddlers in mind, especially those who were less comfortable and confident on the original 11-foot version.
In any case, all potential customers are sure to appreciate the value of this ongoing promotion, regardless of whether one is in the market for a large SUP, a smaller model, or perhaps even both of them. Prospective consumers may want to act soon, however, as the company has yet to declare which day the sale will come to close. In order to participate in this savings opportunity, one can simply select their preferred models, place the desired amount of SUPs in their online cart, and then the appropriate discount will be automatically applied before heading to checkout. It's just that simple. 
With every purchase of an Atoll board, big or small, one will receive a black carbon wrapped fiberglass paddle with a nylon blade, a 10-foot coil leash, a dual action high pressure hand pump, an 8-inch composite fin, a universal fin box that allows for use of most aftermarket fins, and a heavy-duty SUP travel backpack bag with a front zipper pouch large enough to store the center fin as well as a repair kit. Suffice it to say, every SUP comes fully equipped with everything one will need to make the most of it.
For more information about Atoll Boards, the brand's ongoing sales, or anything else, interested parties are encouraged to visit the company's website: www.atollboards.com. To chat with a representative, one can call 877-698-8581. Additionally, the customer service department can be reached via email at [email protected]. For wholesale inquiries, prospective partners can contact the sales team via email at [email protected]. Atoll Boards is headquartered at 9121 Atlanta Avenue, Suite #213, 92646.