Best Jewelry Pieces That Men Usually Wear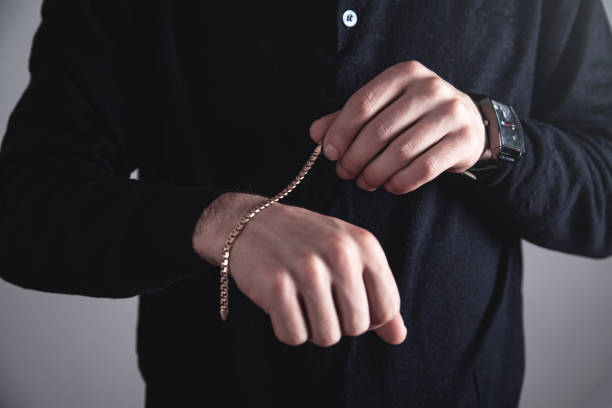 The trend of wearing several jewelry pieces has been recognized more than ever before. Incorporating them to match one's overall ensemble was formerly considered as something that only women could do. But then, over the years, this gender norm has completely been eliminated, and more men have worn the numerous best jewelry pieces available out there. Furthermore, gone are the days where men only wore accessories that had a definite function. After all, even though these past years have been an era where smartphones were used as an alternative for watches, men still chose to wear these timepieces on their wrists to add an attractive touch to their everyday look. 
Jewelry has a way of complimenting your style and making you look just that much more put together. It does not matter if you are going for the heavily accessorized look or if you prefer an all-black ensemble with a hint of subtleness. The best jewelry pieces can elevate any look when they are worn right. Not every guy likes to play around with bold trends or accessories. But that does not mean you have to avoid adding some sort of aesthetic value by wearing minimal jewelry too. Sometimes, less is what matters most out of all — especially when your wardrobe is already so great.
When you look at it, it appears that men these days approach jewelry in one of two ways. They either find it feminine and wear little or none, or they wear it excessively and appear to be a showoff. In reality, a man understands that he should not fall into either of these categories, and that striking a balance is crucial.
There are a variety of versatile pieces that enhance one's personal style and elevate their outfit real quick. This has been the reason why there is a huge growth in popularity in terms of how men wear the best jewelry pieces that have become very trendy recently. With the growing choices of styles and designs of bracelets, rings, watches, and cufflinks, men are enticed to add them to their overall outfit, making it complete. 
Bracelets
With the wide variety of styles and designs that bracelets have, men have considered them to be an important element that enhances their overall outfit. It is a minimal addition that can certainly bring life to your simple outfit.
Men's bracelets were usually made from a thicker kind of leather or metal. But with the various experiments relative to the style that the designers are aiming for, it is now all about basic, elegant bracelets that a man can layer or wear alone. In terms of layering the bracelets, it is important to still make it look like a simple stack of arm accessories. It is best to look at it as a balancing equation. Though wearing only a single, stylish one can shine on its own, layering it with a variety of materials and textures can actually look better. If you want to go a little more bold with your look, for instance. You can incorporate a layered or stacked one, but just make sure the combination would not be too distracting or heavy.
Rings
Another simple and minimal accessory that men can subtly wear would be rings. This staple piece of jewelry tends to be one of the most common, and the most obvious ones that men could wear. From the wedding bands or wedding rings, pinky rings, to even signet rings, all have this distinct characteristic that adds a touch of elegance to a man's overall fit. 
Keep your rings simple. A thick, heavy band might be too uncomfortable to wear throughout the day. The chunky ones, on the other hand, can become distracting at some point, and might even put you into a hard time when you are performing certain tasks involving hand work. The best jewelry pieces in terms of rings would definitely be those light weight, minimal ones. Especially when it is made out of gold, platinum, or Sterling silver, a timeless classic that never goes out of style.
Watches
Watches are definitely the staple, best jewelry pieces that men often wear. This classic, no matter what kind of outfit you plan to wear, can definitely level up your overall look. Aside from being a functional type of accessory by telling you the time, it can also serve as an aesthetic addition that brings life to a dull outfit. It can be made out of a leather material, metal, or even cloth too. And the several designs available using various materials gave them a wide variety of choices.
Cufflinks
It tends to be normal for men to wear cufflinks, particularly at formal occasions. They even typically become a necessity in this case, as they are important elements that complete an entire formal ensemble. Cufflinks are necessary as a part of french cuffs and double cuff shirts. They even replace ties as statement markers, given that there are several unique design and style options to choose from. It can even add color to your monochromatic outfit combinations, with the use of gem-studded cufflinks. You can play around with the ones that you will use, mixing and matching them to find the one that will match your overall fashion ensemble.
Every man should own a pair of cufflinks, given that they are a formal and stylish piece of accessory. When wearing a suit, they tend to be a terrific alternative to simple and monotonous wrist buttons on your shirt. Scuffling is a terrific eye-catching detail that keeps your look formal and minimal at the same time. You can select from a range of alternatives to find the ideal cufflink for the occasion — whether formal or casual.
Key Takeaway
Men should have at least one of each of the best jewelry pieces that tend to enhance, and even complete your overall look. And in terms of choosing a piece of jewelry to wear, no matter how you decide to wear it, it is important to go for something that you feel confident with, while providing you with a comfortable feel. These jewelry pieces also serve as an attractive addition that lets you leave a good impression on others.