Beauty In Brokenness; Viral Artist Kim Rose's Limited Edition Series is Set to Release June 11th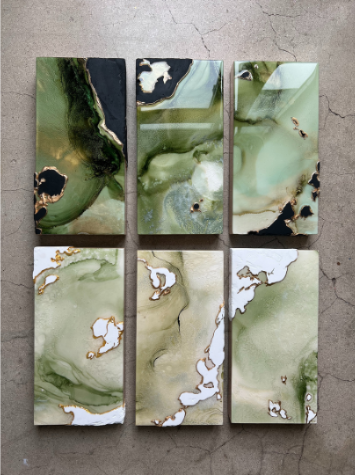 Early access will allow subscribers the chance to land a one-of-a-kind piece of art 30 minutes before the general sale.
Los Angeles artist Kim Rose, who is known for her refined abstractions, will launch her 5th mini-artwork series on June 11 for fans seeking an original piece of her dimensional work. Rose's Limited Edition 'Jade Mini Series' will go on sale at 10 a.m. PST and early access will be granted to subscribers eager to secure their spot. The size and price of these exclusive, limited edition works will be announced at launch.
Rose is one of America's leading young artists in large scale luxury resin art. Her collectors span the globe in the regions of Qatar, Taiwan, Hong Kong and abroad. As her work has expanded over the years, Kim makes it a priority to stay connected to the audience that propelled her into viral recognition. To satiate her audience, Rose provides a limited number of "mini" versions of her currently featured large-scale series for sale each year.
Each of Kim's previous mini series has consistently sold out within minutes, and this latest set of works is being met with even greater demand. To ensure her loyal followers are given priority access, subscribers will be allowed to access the launch 30 minutes prior to public availability. Rose expects all 40 minis will be claimed in pre-sale so fans are highly encouraged to subscribe to get early access.
"For this painting, I pulled from everything I discovered," Rose said. "I sat with everything for a while and tested new techniques. I explored the color green which was an absolute joy. I created a new stone technique that feels refined and lavish. As always, I added 24k gold to the mix. I wanted the painting to feel right with the intentions."
Rose chose the luxurious jade green for the artwork, in Chinese culture known as the "Stone of Heaven", because of its symbolism of good fortune and protection against bad spirits. Rose also implements her signature 24k gold accents throughout each piece, heavily influenced by the Japanese art of Kintsugi. The Kintsugi technique masterfully uses gold to repair broken pottery, in turn, making it even more beautiful & valuable than it previously was. These broken shapes and gilded scars used in Kintsugi pottery are prominently featured in Kim's new collection.
"Jade is more precious than gold, and symbolizes prosperity, success, and good luck," Rose explained. "Meanwhile, Kintsugi, to me, is a symbol of being broken and coming back stronger and more beautiful than before. It's about the beauty in our brokenness. Combining jade with Kintsugi, I feel like I have made a timeless masterpiece that beautifully represents healing from brokenness, and moving forward with prosperity and success."
Only 40 pieces of art in the limited edition Jade Mini Series release will be made available. Pieces will go quickly and the best way for fans to purchase one of the limited numbers of pieces is to subscribe for early access. For more information about Kim Rose, please visit her website: https://www.kimroseart.com/home
To subscribe to gain early access to the artwork release, please visit: https://www.kimroseart.com/jade-subscribe
Media Contact
Company Name:  Kim Rose Art
Contact Person: Derek Richmond, Manager
Website: www.kimroseart.com/home
Email: [email protected]
City: Los Angeles
State: California
Country: United States
---