6 Reasons Why you Need to Hire NodeJS Developers for your Start-up
NodeJS developers are the most prominent resource for any start-up. Check out the top 6 reasons why you need to hire NodeJS developers for your start-up.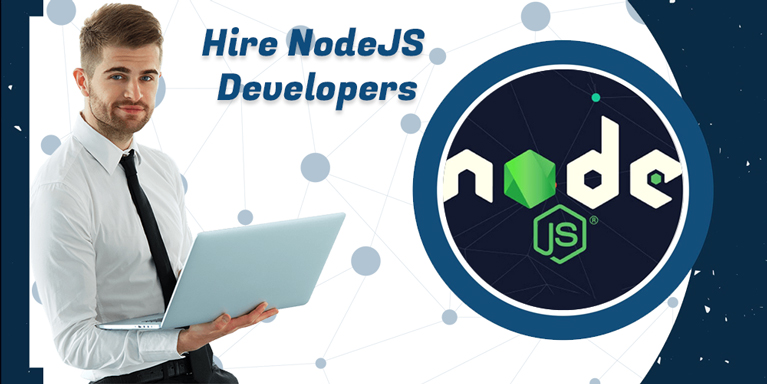 The Internet is the most common factor that keeps all businesses on their toes. It gives life to web apps and mobile apps that rule the world. Although mobile apps have a significant impact on the current tech world, web apps are still the foundation for any business.
Web apps offer efficiency, 24/7 availability, higher security, scalability and easy maintenance. However, they use web browsers (Google Chrome, Firefox, Safari, Internet Explorer etc.) to function without any hassles.
Best Technology for Web App Development
Today, customers are not easily satisfied. They want something more than websites to become a loyal customer of your business. This is the simple reason why hiring software developers is very important to build Web Apps with the latest trends & technologies. 
There are several technologies from which you can choose from to start your web app development. However, you might fail during the process if you do not know where to begin. Therefore, choose the best web app development tech – NodeJS that offers all the benefits you need for your start-up business. 
NodeJS
NodeJS is an open-source, JavaScript runtime environment that lets you develop scalable web apps quickly. If you are looking to develop a lightweight yet efficient web app, NodeJS is the best solution. Moreover, it works well with real-time apps with a considerable amount of data running in the background.
Furthermore, NodeJS developers have the ability to build scalable and fast network apps that are capable of dealing with multiple apps at the same time without compromising on performance.
How to Hire NodeJS Developers
Every NodeJS developer should follow a set of responsibilities to succeed in quality web app development. Below are a few tips on how you should hire NodeJS developers for your start-up.
Depth Knowledge in NodeJS
Hiring NodeJS developers that have deep knowledge in NodeJS plays a vital part in your app development. Therefore focus on developers that carry an in-depth knowledge on the technology. 
Clean Coding
NodeJS offers scalability. Thus hire developers that have the capability to deliver clean codes. Because you cannot predict the future of your app as you might end up with a different developer to upgrade features and functionalities.
Security
Security is a significant concern in app development. When you hire NodeJS developers, make sure they know the importance of a secure web app and the ways to make them secure from attacks and hackers.
Third-party Integration
The digital evolution in today's tech world makes third-party integration inevitable. Starting from integrating payment gateways to integrating analytics, the NodeJS developer you hire must be aware of all the third-party integrations.
Soft Skills
Soft skills define a developer. It reflects the nature of the developers and helps you choose the finest developer for your web app development. Therefore when you hire top NodeJS developers for your app development, give equal importance to soft skills like you give for hard skills.
Good Communication
Strong communication and collaboration are essential for a successful web app development. Check out if your developer has good communication skills to bring out all your ideas to functional apps. Because without good communication, the developer can't understand your concepts.
Team Work
Teamwork is the essence of an app development process. Your NodeJS developer needs to be a team player because coordination, communication, logical thinking, and listening make one an outstanding developer.
6 Reasons Why You Should Hire NodeJS Developers for Your Start-up
NodeJS developers are the most eminent resource for a start-up. Besides, they help build real-time and trending apps that offer outstanding performance with exceptional processing and consuming of multi-user real-time data.
Below are 6 important reasons why you should hire NodeJS developers;
Easy to Learn and Implement
The learning curve of NodeJS is short. Therefore you hire a developer that excels in JavaScript and has basic knowledge about NodeJS. Moreover, as the cost is a significant concern, you can rely on this option and hire NoeJS developers cost-effectively
Faster Time-to-market
The development time of NodeJS apps is relatively shorter than the other technologies. As time is very important for start-ups, hiring NodeJS developers to develop web apps in a shorter duration is the best option.
Scalability
As NodeJS offers scalability, you need to hire developers that can work on scalable apps. Building from scratch is different from building on top of a well-structured App. However, NodeJS developers can work on scalable apps and hiring them is the most suitable option if you are a start-up.
MVP Development
NodeJS developers know to build apps from scratch. As a start-up, MVP is the most reliable resource that adjusts to the short budget, timeframes and features. Moreover, NodeJS developers can quickly build an app with just a few features and satisfy your customers and business at the same time.
Community
If you hire NodeJS developers, you can be assured of any outcome you want for your business because you have a strong developers' community. Furthermore, an active community means a lot of support and help. 
Mature Technology
NodeJS is a mature technology. It has been tested on several more prominent brands around the world like PayPal, Netflix and eBay. Besides, according to reports, the number of companies using NodeJS has increased lately. This is because the NodeJS developers have matured with immense experience and expertise working with this technology. Therefore, companies are positive to give projects to NodeJS developers.
Wrapping Up
I am sure you are now well aware of why you should hire NodeJs developers for your start-up. However, you might be terrified and confused at the beginning of the hiring process. There are renowned app development companies like Soft Suave that offer NodeJS developers for hire to avoid that. 
Moreover, Soft Suave houses 200+ expert web and mobile app developers that can seamlessly transform your web apps to reality at an affordable cost. They even offer flexible hiring models to grab their developers quickly and cost-effectively. If you are a start-up, I assure you that there is no better place than Soft Suave.