What are Wireframes & amp; How They Support UX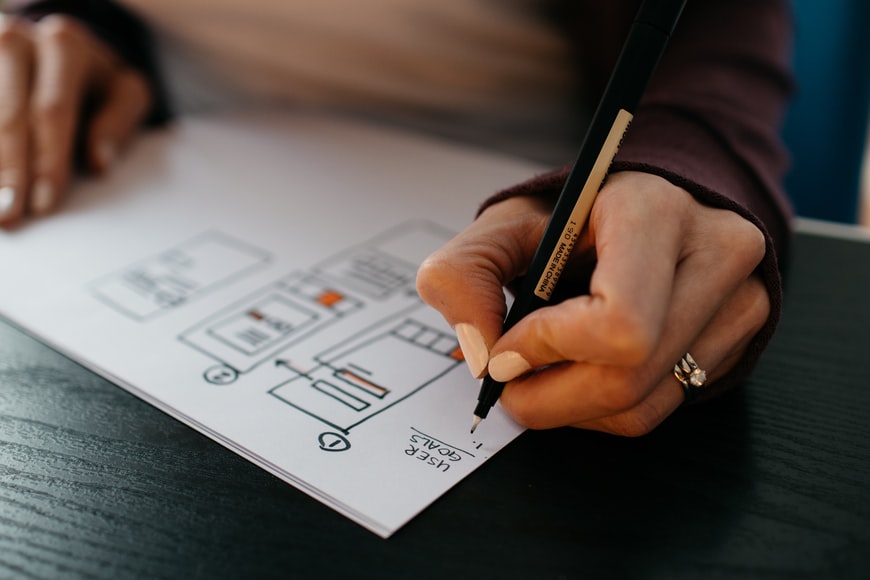 Do you know which the right place to begin the design process is? No. The answer is a wireframe. It starts the foundation of the user interface, visual design, and user experience. This basic yet simple paperwork is to begin from scratch but is difficult enough to work as a solid base going ahead. It forms the structure and the backbone of the whole project design; turn it simple to build single parts. 
 UX designers share a mixed opinion related to wireframing, with some called them just a wastage of time. However, things have changed significantly that allows the designer to add interactivity in just a few seconds. It allows them to quickly create low-fidelity prototypes, fixed wireframes no more work as a dead-end deliverable.
 Definition
A wireframe is known as a monochromatic draw-up that's created in the design stage of the Design Thinking Process. It offers a blueprint of page structure, design, and most important functions. It gives an open idea to the stakeholders related to the functioning and visual showcasing of application UI.
 Why is Wireframe essential for UI/UX designers?
As an essential part of the user-focused design process, wireframes are used start away at the beginning of the design. Just like how an architect initially thinks about the building blueprint and plans for the relative positioning about the different rooms related to each other before thinking about the interior design. It allows the designers to check the complete skeleton of the digital apps. 
 Let's discuss why wireframes are essential:
Time Saver – It is primarily important to create rough sketches. Therefore, it turns simple to cut down the errors and fast changes. 
Assists in Feedback Collection – For a User Experience Designer and a user interface, collecting feedback from the end-user is rather essential. It makes it simple for the end-user to appreciate the UX design actions. 
Design Right Designs– Special kinds of wireframes assist a UI/UX designer form an accurate blueprint of his designs. The right placement of the content is important. 
What are the different categories of wireframes?
The three common kinds of wireframes are:-
 Low Fidelity wireframes- Sometimes called paper wireframes, roughly creation is here. They don't have any comprehensive scales, grids, or pixels. However, works, contents, headings, topics are there in a raw shape without any right construction.
 Mid-Fidelity Wireframes (Mi-Fi) –They are commonly used for communication with the end-users and stakeholders. Mid-fidelity wireframes possess grid, scale, and pixel hence; they are more precise than low-fidelity wireframes.
 High Fidelity wireframes (Hi-Fi)- Low Fidelity and Mid Fidelity wireframes are lack feature images and written content. They make a looks in high fidelity wireframes.
 Kinds of Wireframing tools
 Wireframes can be just hand-drawn but are sometimes put together with the use of hand-drawn but are often put jointly using software like AdobeXD, Balsamiq, Figma, Sketch, to give an on-screen design. 
Figma – It is a web-based app not just lets a UI/UX designer make fast wireframes but also assists in keeping things organized. 
Sketch– Commonly used tool by UI/UX designers is fast and simple to use. It works primarily on Mac systems.
 Adobe– Better known for the multipurpose workout. There is no restriction to create different wireframes.
 Benefits of Wireframing
 From a practical point of view, the wireframes allow the page content and functionality to be positioned in the right manner. It is based on business and user requirements. 
 Wireframing gives an early visual that can be utilized to make a review with the client. It allows the users to review it for the fast feedback mechanism for the tests of usability. 
Moreover, it clears out the specification of the product. A wireframe offers open communication to the clients on how the features work out, where they will appear on the definite page and how helpful they might essentially be. Wireframes must be used quickly in a project to get user and client endorsement on the design of key pages as well as the navigation. It will allow the project team, designer specifically, and good confidence. Wireframes will also save significant time and money in the testing and changes phase later with the project.