Brandon Ford Hosts Annual Trade-A-Thon Sales Event in April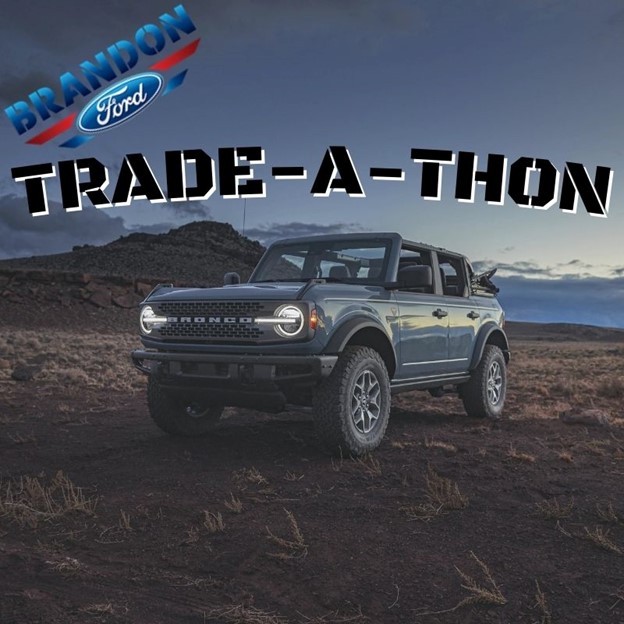 Tampa dealership accepts cars, trucks, SUVs, motorcycles, boats and more in trade
Brandon Ford is set to host its annual Trade-A-Thon Sales Event in April 2022. This annual event is famous across the Sunshine State and provides potential car shoppers with a great opportunity to trade in their vehicle for the best price in the area and save on a brand-new Ford car, truck or SUV at the dealership. During this event, Brandon Ford will take anything and everything in trade – from cars and motorcycles to boats and recreational vehicles (RVs). Money from trade-ins can be applied to new Ford models, used vehicles and more at the dealership to help potential customers save.
The dealership is dedicated to paying top dollar for high-quality, used cars, trucks and SUVs in the Tampa, Clearwater and St. Petersburg area that will help potential customers to trade up to a brand-new Ford that will fit their lifestyle and budget. In addition to great prices for pre-owned cars, trucks and SUVs, consumers who shop the Brandon Ford Trade-A-Thon will also receive great prices for boats, motorcycles, RVs, campers and more mechanical toys that no longer get used. Brandon Ford wants to buy any and all high-quality used vehicles to add to the dealership inventory and Tampa-area drivers who choose to trade their vehicle in are under no obligation to purchase a vehicle from the dealership.
Brandon Ford has much more to offer than great prices for trade-ins. A premier Ford dealership in Florida and the United States – Brandon Ford is the World's Largest Volume F-Series Truck Dealer. Potential customers who are interested in the 2022 Ford F-150 will find more than 150 Ford F-Series models in stock and available at the dealership with low prices. The easy-to-navigate online inventory makes it simple to find the perfect fit with search filters that include year, make, model, trim level, body style, exterior color, interior color, engine, transmission, price and more. 
Additional brand favorites that potential buyers will find at Brandon Ford include the iconic Ford Mustang, the all-electric Ford Mustang Mach-e, the versatile Ford Escape, the classic Ford Explorer, the hard-working Ford Ranger and the brand-new Ford Maverick. Ford-brand lease and finance incentives are available at the dealership to help make vehicles more affordable for well-qualified Tampa-area drivers with low interest rates and affordable lease agreements. To help upgrade the purchase process for potential car shoppers, the dealership provides online credit approval, instant online trade offers, Ford Extended Service Plans, additional warranty coverage and much more.   
Tampa-area car shoppers who do not see what they are looking for in the online inventory can custom order a brand-new Ford car, truck or SUV that can be tailored to fit a specific lifestyle and budget. Interested customers can contact the dealership sales team to pre-order their dream car with specific features, technology, colors and more. With this simple sales process, drivers can get the vehicle of their dreams with benefits that include locked-in price protection, order updates every step of the way and quick delivery in as little as eight to ten weeks. Trade-in prices can be applied to custom Ford cars, trucks and SUVs purchased at Brandon Ford. 
Individuals who would like to learn more about the Brandon Ford Trade-A-Thon Sales Event, custom Ford cars, trucks and SUVs and the impressive inventory of Ford F-Series pickup trucks can visit the dealership online at www.brandonford.com. Those potential customers who prefer a more personal automotive experience can contact Tom Murray at Brandon Ford with any questions by calling 813-246-3673.