Atoll Boards Ringing in New Year with New Saving Opportunity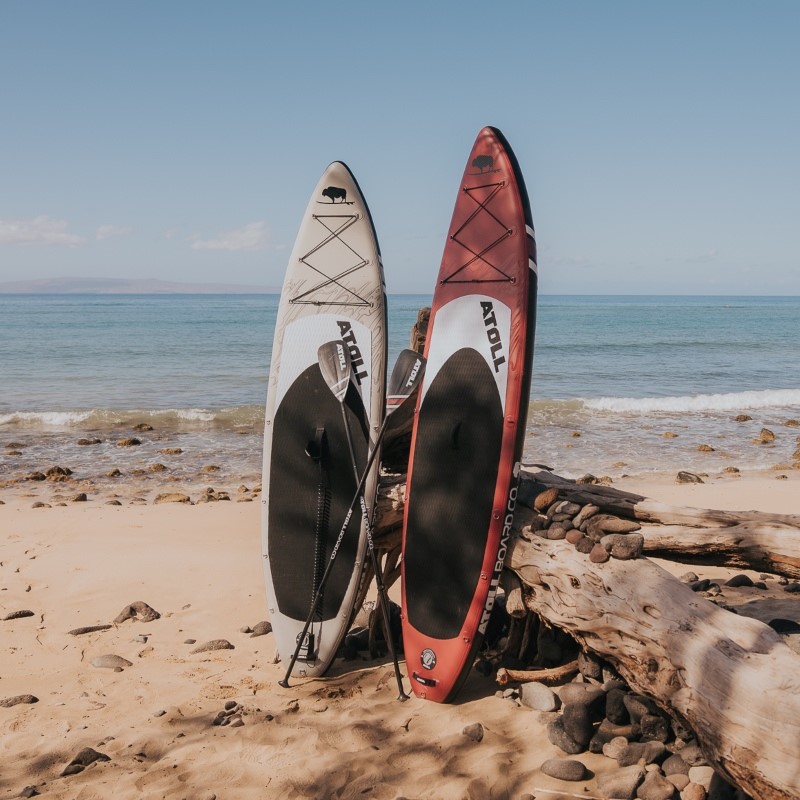 HUNTINGTON BEACH, California
Every new year is a new opportunity. For some, it's a chance to take up a new hobby; for others, it's a time to return to an old one. Whether stand-up paddle boarding (SUP-ing) is a new or old interest, many members of the SUP community are likely to notice the inaugural sales of the new year. For instance, Atoll Boards is currently ringing in the new year with a new saving opportunity for prospective customers. 
For a limited time only, when consumers buy two SUPs in one transaction with Atoll Boards—and apply discount code 'bulk discount' at checkout—they will save $100.00 on their final purchase. This comes on the heels of Atoll Boards launching their brand-new 2023 inflatable stand-up paddle boards (iSUPs). For the first time ever, in the 2023 model year, the company is producing more than one size of their signature iSUPs. 
In addition to their regular 11-foot model, Atoll Boards is also offering a brand-new, smaller 9-foot board. Intended for younger paddlers, the smaller iSUP is approximately 9 feet long, 30 inches wide, and 6 inches thick. The larger one, on the other hand, is about 11 feet long, 32 inches wide, and 6 inches thick. Between these two models, there is an Atoll Board for most if not all prospective paddlers. 
Furthermore, both iSUPs are made from machine-laminated dual-layer PVC, which makes them especially lightweight, strong and durable boards. The 11-foot model, for instance, weighs approximately 21 pounds and can support individual riders of up to 315 pounds as well as groups of riders totaling up to 550 pounds. While the company has not stated the 9-foot board's specifications in this regard, one can assume that they are probably similar to those of the classic 11-foot model.
Regardless of which paddle board is purchased, every iSUP comes with an extensive assortment of standard accessories. With every purchase of a 2023 Atoll Board, one will receive a black carbon fiberglass paddle with a nylon blade, a 10-foot iSUP leash, an 8-inch composite fin, a universal fin box, a dual-action, high-pressure hand pump and a heavy-duty SUP backpack travel bag.
As far as customizations are concerned, every 11-foot model is available in the following color options: Aquamarine, Army-green, Burgundy, Desert-sand, Light-blue and Wolf-grey. At this time, the 9-foot board is only available in Aquamarine and Army-green. Of course, all of this is subject to change in the future.
In terms of pricing, the 11-foot 2023 Atoll Board is normally listed at $899.99. At this time, however, it is currently available for $595.00 The 9-foot 2023 Atoll Board, on the other hand, is regularly priced at $699.99 but presently on sale for $445.00. Prospective consumers may want to act quickly, though, as the company hasn't indicated a clear final date or time for these markdown prices. What's more, there is no discernable timeframe for the 'bulkdiscount' promo code which can save patrons an additional $100.00 when they purchase two iSUPs. In short, curious consumers are encouraged to take action while the savings opportunities are still in effect. 
For more information about Atoll Boards, or the brand's ongoing sales, interested parties are encouraged to call 877-698-8581. Additionally, the customer service department can be reached via email at [email protected]. For wholesale inquiries, prospective partners can contact the sales team via email at [email protected].
Atoll Boards is headquartered at 9121 Atlanta Avenue, Suite #213, 92646. More information is available on the company's website: www.atollboards.com. For a direct line where one can contact the Atoll Boards customer service team online, interested parties are encouraged to click here. One can also keep up to date with the brand's social media accounts, including Instagram, Facebook, and Twitter by following @atollboards on each respective website.