Why Should You Integrate Product Designer Tool to Your Storefront?
Are you wondering why you should use a product designer tool? As an eCommerce store selling personalized products, it would be a great addition. Let's understand why!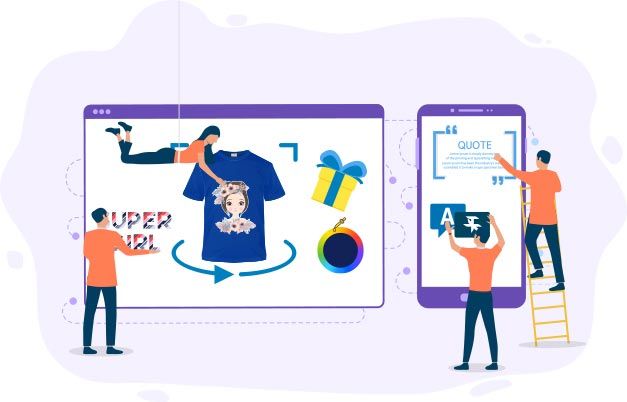 Personalized products have a special place in the hearts of the customers. Today, people love buying customized stuff, be it a phone case, t-shirt, mug, pen, or anything. Are you also one of the merchants who sell the customized products through their eCommerce store? If yes, then you will be relieved to know that all your worries related to product design are soon going to end. How?
Well, today we have WooCommerce product designer tools and Shopify product designer tools, that will help the customers in customizing the product as they want. This eventually reduces the trial-and-error situations. Still, confused? Well, let's start with understanding a bit about the product designer tool.
What is a Product Designer Tool?
A product designer tool is a blessing for all the merchants selling customized or personalized products. It is incorporated with a huge library having various colors, patterns, cliparts, texts, etc. With its help, customers can design the product as per their needs and also view the real-life version of the product.
This is the simple definition of a product designer tool. Now, to help you with the decision making let me explain to you why to integrate one for your storefront.
Why Opt for the Product Designer Tool?
Here are the four reasons why it is essential to integrate the product designer tool into your storefront:
Keeping Up with the Competition
One way to stay ahead in the competitive market is by adapting to the change. As said, today people want personalization in almost everything they buy or use. You need to have a strong strategy to sell your products or services in the competitive market. The product designer tool helps you by letting the customer create the design they want.
Trial-and-Error Free Order Completion
With the help of the WooCommerce or Shopify product designer tool integrated into your website, there will be little to no error in the shipped product. How many times did you have to redesign the product, just because it wasn't up to the customer's expectations? Many times, right? This is the issue that a product designer tool solves.
A product designer tool will lessen your burden of redesigning too. When you create a sample design as per the instructions given via call or mail, there are chances the customer won't be satisfied with it. As a result, you have to redesign it.
However, with the help of a product designer tool customers can create the design they want using the different elements from the library, or even add other elements from their end. Hence, you will have trial-and-error free order completion as customers are designing the product on their own.
Customer Satisfaction
"A satisfied customer is the best business strategy of all" – Michael LeBoeuf.
The above quote explains the importance of customer satisfaction, it is a key factor that generates sales and high profit. The integration of a product designer tool will provide full access to the customer to design the product as per their needs. With this, they won't worry about the accuracy of the final product, which will eventually lead to customer satisfaction.
Higher Sales and Profit
When you have highly satisfied customers and keep up with the competition, no one can stop you from having sky-rocketing sales. The happy customers will become your permanent ones and also spread the word about your services. It will eventually result in soaring profit and sales.
Conclusion
Shopify and WooCommerce product designer tools are changing the storyline of online businesses today. As people love buying unique and personalized products that can fulfill their desires. As a business owner, incorporating a product designer tool is the best and cost-effective way that will lead you to customer satisfaction and sky-high sales & profit.