The Ultimate Guide to Accepting Payments in Latin America
In 2013, the World Bank announced that the number of mobile phones in Latin America exceeds the number of people, and Latin America represents the world's third largest electronic mobile market.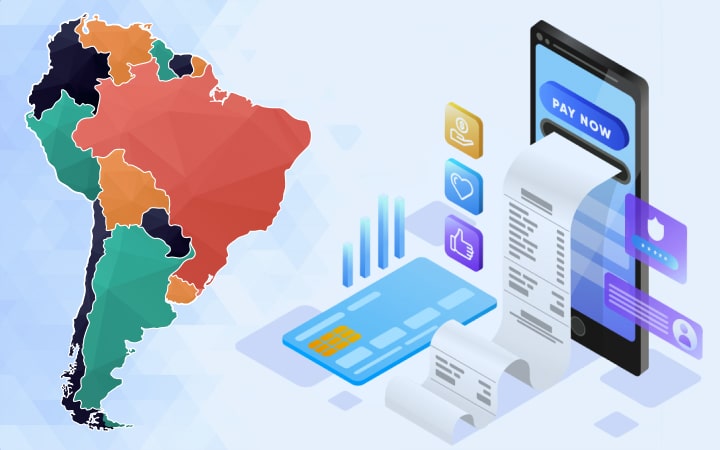 In 2013, the World Bank announced that the number of mobile phones in Latin America exceeds the number of people, and Latin America represents the world's third largest electronic mobile market. However, Latin America is also one of the countries with the highest "financial exclusion rate". According to data from the World Bank, almost half of the population in Latin America does not have a bank card. Therefore, for cross-border sellers, the major challenge in expanding the Latin American market is to cater to the payment habits of Latin American users.
However, under the low bank card holding rate, the e-commerce market in Latin America continues to grow. In 2018, the market value of e-commerce in Latin America increased by 13.1%. In this regard, the three key financial innovations in Latin America provide a crucial payment method for locals in Latin America to shop online.
The rise of e-wallets and digital currencies
Low bank card holding rate is an important problem for Latin Americans when shopping online. Without a financial institution to manage transactions, how to pay? With digital wallets, such virtual wallets do not require users to open bank accounts in physical companies or branches. In this way, people who don't have a bank account in Latin America can open online payments. It is easy to set up and recharge, and is designed to be a payment method that can be smoothly integrated into the online checkout process.
In Latin America, the penetration rate of smartphones has promoted the popularity of e-wallets. A recent study showed that two-thirds of online shoppers are willing to use e-wallets in 2018/2019. The study also found that Mexico and Argentina showed the highest regional usage rates for this payment method.
Future of payments in Latin America
2020 is a transformative year for many industries. The global pandemic has had a profound impact on how we interact and consume products and services. Payment processors have played an important role in helping companies rethink their strategies and create a consumer experience that adapts to the rapidly changing payment environment.
As most people switch to online payment methods, e-commerce has experienced several years of growth in just a few months. According to a 2020 report, e-commerce will continue to grow throughout the region in the next few years. In Brazil, the region's largest market, e-commerce is expected to grow by 53% by 2023, while Mexico, the second largest market, is expected to grow by 57% over the same period.
Periods of change are usually accompanied by innovation and adaptation. During this period of growth and the destruction of consumer habits, certain trends have accelerated. It is interesting to see that these will constitute the future FinTech development trends in Latin America for payment processing.
Electronic money is changing the way the Latin American market operates
Cross-border sellers in Europe or the United States have realized the transformation of digital banking institutions. Many countries/regions are now issuing different forms of bank licenses. These licenses come from Authorized Payment Institutions (API) or Electronic Money Institutions (EMI). These licenses allow users to make online payments in virtual accounts.
In Latin America, people are beginning to feel the growth of the electronic money market. Especially in countries like Mexico, their physical bank coverage may not be high. Brazil, Bolivia and Peru are at the forefront of Latin American countries in the use of electronic money.
Digital Bank
The rise of electronic money in turn has contributed to the growth of digital money. Taking into account the geographic complexity of Latin America, physical banking institutions have limitations. Digital banks provide the same services as traditional banks, but the scope is online markets.
Although digital banks are still not as popular as traditional banks in the Latin American market, this situation may change in the next few years. As digital banks are increasingly accepted and visited, international e-commerce merchants will need to accept them during the checkout process.
Less cash and more contactless payments
Although cash is still an important payment method in Latin America, digital fintech payments solution have become more popular with the pandemic. Due to social distancing measures, the use of cash has decreased in the past few months. A study showed that the number of consumers using branches and ATMs has decreased, and 62% of respondents said they use less cash due to COVID-19. Despite this trend, the reality is that a large proportion of consumers still like to use cash. Solutions that integrate cash and online payment (such as Openpay's Paynet) can meet the needs of businesses and customers.
According to the same study, contactless technology has also grown by 40% in credit and debit cards. These technologies allow customers to pay by swiping or tapping their debit or credit card near a card reader, or by scanning a QR code to pay via a payment link or digital wallet. In the pandemic, this method has proven to be a fast, safe and convenient way to conduct transactions.
Biometric authentication
This type of authentication involves verifying a person's identity based on one of their biological or physical characteristics. In most cases, these characteristics involve their face, voice or fingerprints. Entering the personal identification number or card details can be (albeit required) an annoying step in the customer journey. However, biometric authentication can help speed up this process by using people's unique biometrics to verify their identity and authorize transactions.
Omni-channel payment
In order to attract a wider customer base, it is very important to provide potential customers with multiple payment methods. Approximately 48% of customers are changing between digital and physical payments with the company and want to be able to interact seamlessly.
Solutions that integrate different payment channels of an enterprise are essential to provide a good customer experience, especially when these transactions are conducted online. Allowing customers to use credit and debit cards, payment links, direct bank transfers or cash to make payments is essential for the company to maintain its competitiveness in the growing e-commerce market in Latin America.
These omnichannel solutions enable companies to provide engaging, personalized and consistent interactive services throughout the customer experience, and customers can pay according to their wishes and methods. Unifying these channels is also a good way to obtain accurate data about individual consumer behavior and better understand their needs.