Maximizing Your IT Budget: How Nearshore Staff Augmentation Can Help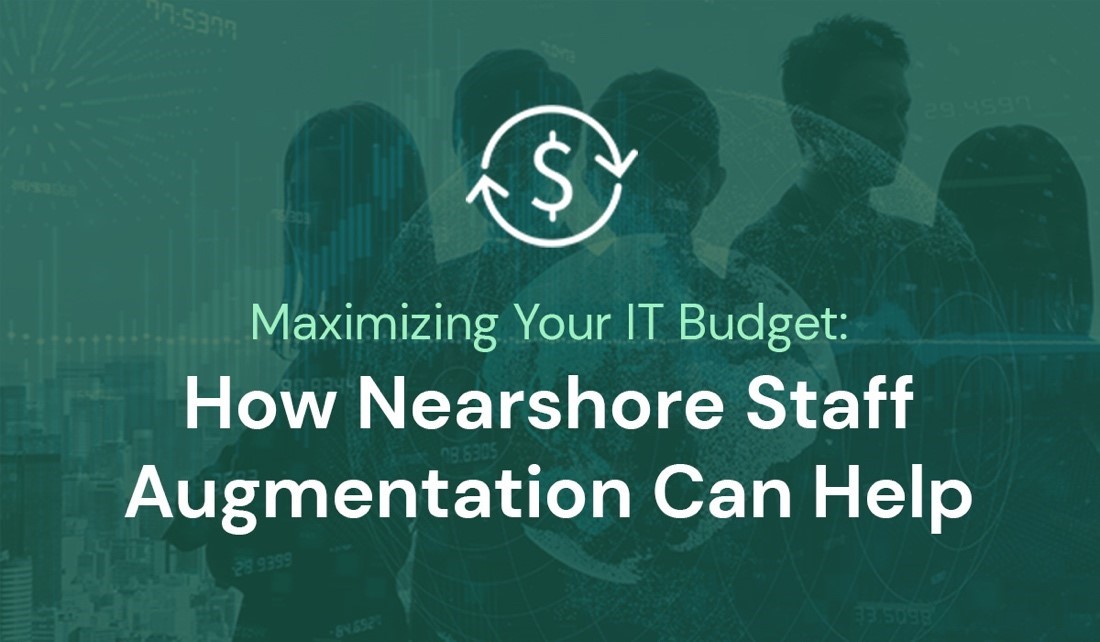 Introduction: 
In today's rapidly evolving digital landscape, mid-sized businesses face the challenge of remaining competitive while effectively managing their IT budgets. Finding cost-efficient solutions that don't compromise on quality and expertise is paramount. This is where nearshore staff augmentation comes into play, offering a smart and effective approach for businesses to maximize their resources and boost productivity. By partnering with a reliable nearshore staff augmentation provider, businesses can access a pool of highly skilled IT professionals, leverage cost savings, and maintain the agility needed to adapt to changing market conditions. 
"Nearshore staff augmentation is revolutionizing the way mid-sized businesses optimize their IT budgets. By tapping into a pool of highly skilled IT professionals at a fraction of the cost, companies can achieve remarkable cost-efficiency and unlock the full potential of their projects," says Garry Lea, CEO of Global Triangles, a leading IT nearshore staff augmentation service provider with offices in the USA and Mexico. 
Optimizing IT Budgets through Nearshore Staff Augmentation: 
Statista.com reports that the global revenue from information technology outsourcing (ITO) reached an impressive US$66.5 billion in 2019. This figure underscores the growing importance of outsourcing services in the IT industry. In the same year, it was found that 92% of organizations engaged in ITO services with an active contract, highlighting the widespread adoption of outsourcing as a strategic approach. 
One of the key advantages of nearshore staff augmentation is its ability to provide access to highly skilled IT professionals at a fraction of the cost of hiring full-time employees in-house. By partnering with a reputable nearshore staff augmentation provider such as Global Triangles, businesses can tap into a talent pool of developers, DevOps professionals, and other IT specialists. This approach not only helps businesses optimize their IT budgets but also ensures they have the expertise needed to deliver successful projects and support ongoing operations. 
Agility and Flexibility: 
Nearshore staff augmentation empowers businesses to remain agile and flexible, adjusting their team size and skill set as per project requirements. Unlike the traditional hiring process, nearshore staff augmentation allows companies to quickly scale up or down without the associated expenses and risks of onboarding full-time employees. This flexibility becomes particularly crucial when businesses face fluctuating workloads, tight deadlines, or the need to adapt to evolving market demands. 
Specialized Expertise and Skill Gap Bridging: 
Mid-sized businesses often encounter skill gaps in their IT departments, hindering their ability to tackle complex projects or adopt new technologies. Nearshore staff augmentation offers a solution by providing access to specialized expertise that may be lacking internally. For example, if a company using the Magento e-commerce platform needs developers proficient in its intricacies, a nearshore staff augmentation provider like Global Triangles can offer experienced Magento developers who can seamlessly integrate with the existing team and contribute to project success.  
Strategic Advantages and Market Expansion: 
In addition to cost savings and specialized expertise, nearshore staff augmentation can provide strategic advantages for businesses aiming to expand their global presence or enter new markets. By partnering with a nearshore staff augmentation provider based in a neighboring country, businesses can tap into cultural and linguistic expertise, as well as leverage proximity to target markets. This can be especially beneficial when local market knowledge and understanding customer preferences play a crucial role in business success. 
According to data from Statistics.com, cumulative market expenditure on outsourcing in the United States was equivalent to almost 20 billion U.S. dollars in 2019. These figures highlight the significant role played by outsourcing services in driving market growth and helping businesses achieve their objectives. 
Conclusion: 
Nearshore staff augmentation presents mid-sized businesses with an opportunity to maximize their IT budgets, enhance capabilities, and remain competitive in the digital landscape. By leveraging the expertise of a trusted nearshore staff augmentation provider like Global Triangles, businesses can optimize their resources, tap into specialized skills, and maintain the flexibility needed to navigate the ever-evolving IT landscape. As the statistics demonstrate, the widespread adoption of outsourcing services highlights the proven benefits of nearshore staff augmentation in achieving cost-efficiency and project success. 
Global Triangles, with its extensive experience and expertise in nearshore staff augmentation, stands ready to support businesses in their IT endeavors. As Garry Lea, CEO of Global Triangles, highlights, "Our nearshore staff augmentation services empower companies to optimize their IT budget, gain access to top-tier talent, and achieve remarkable results. By blending our expertise with clients' existing teams, we create a synergy that drives success and helps businesses thrive in the ever-evolving digital landscape."