How To Make Your Living Room Cozier During Winter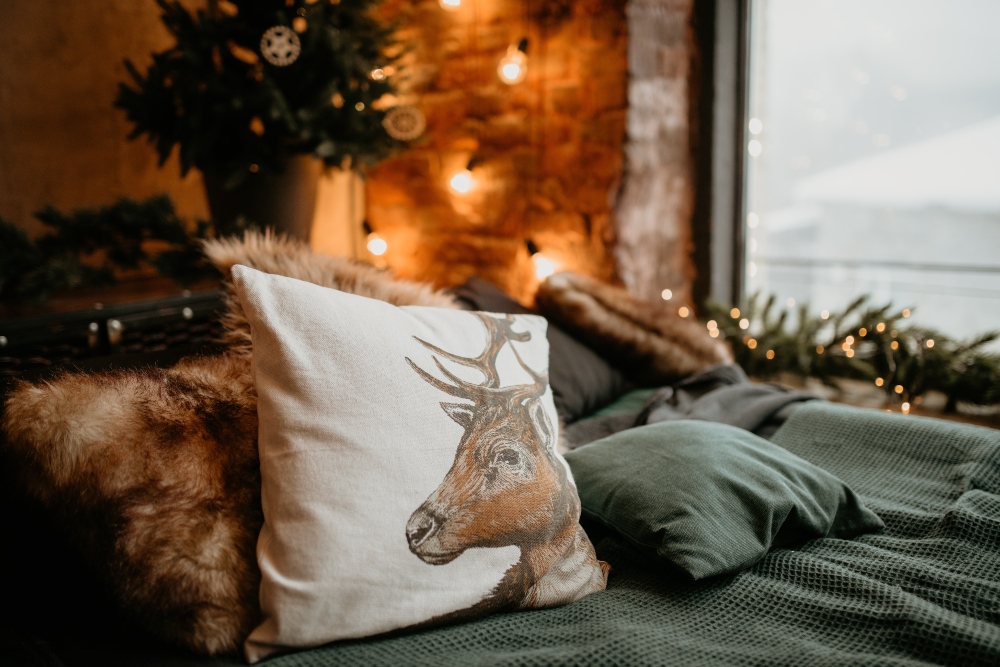 From the moment the sun sets, the outdoors begins to cool and create a crisp chill. At this moment, bundling up in a cozy living room for the evening becomes an even better idea. Whether it's bundling up to a great book or enjoying a great show or movie, having it feel cozy makes the entire experience worthwhile. But how do you make a living room feel more comfortable? It can be accomplished easily as long as you incorporate the methods we've listed for you today.
1. Prevent Heat Loss
Ensuring that your home's living room space is adequately insulated is crucial during winter. To start, it is essential to know if your modern home plans are doing their part to prevent heat loss. Do a visual inspection of them to ensure they appear fitting and have no extra space around their borders, which could cause drafts. Ensure that the sills are also dry and free of condensation.
Once any heat loss issue is corrected, you can make adjustments to the living room space by tailoring your thermostat to achieve a cozy temperature.
2. Incorporate Intrepid Colors
Bringing in Deep, intrepid colors can effectively create a feeling of coziness. When you combine dark colors such as Navy or chocolate, you create cozy, welcoming, and home decorations that mix well together. Adding a mix of wood also enhances an opaque effect.
Darker shades that have more intrepidness include saturated and earthy colors, reds, oranges, and yellows. By displaying seasonal color in your living room, you can add coziness within a matter of seconds.
3. Include a Little Gleam
Including a little sparkle from brass and copper creates a fantastic effect with dark shades or walls. You can also elaborate by using sparkle among different living room items, which will also develop highlights like picture frames, scatter cushions, or even a tea light holder. You can even go cozier by choosing fabrics that have a shiny glimmer to them.
You can also use the shiny glimmer within your lampshade. This will emit warmth throughout your living room, whether it is lit or not.
4. Emit a Sense of Radiance
Along with winter comes shorter daylight, so your living room must remain as bright as possible during all hours of the day. Try to create light and soft backgrounds in nature, such as dimming light fixtures or a reading lamp positioned next to your sofa.
Bringing in decreased lighting from a lamp will also add coziness when you make use of LED lighting. These will also create both comfort and warmth, and when you increase yellow colors, the coziness factor rises tremendously.
If you have dark corners, then bringing in lamps to convert it to become a nook will provide a cozy spot to relax.
You can also produce a nice balance within your living room by employing lighting along the walls. These will also create softness without being domineering. You can also situate the lighting so that it is on a separate connection to provide individual control of the lighting.
Instilling radiance and ambiance can be done when you bring in mood lighting. With that, you are creating an instant cozy feeling that will have you snug throughout the night. If you have a fireplace, you can make a primary source of lighting and heat on the coldest of nights. Having wood-burning stoves can also generate coziness while adding candles will intensify the effect. You can magnify your living room's coziness by combining reflective surfaces as well as a mirror.
5. Employ Cozy Fragrances and Scents
Bringing in fragrances and scents will cause a cozy feeling most thoroughly, and it is perfect when welcoming a new winter season into a living room.
The fragrance can determine your room's ambiance and enhance the room's decoration. Try adding scents that are warm and rich, such as amber, bergamot, or frankincense. These three will capture the fall effect as it turns to winter.
Although these five cozy suggestions work very well for a living room, there are many more which can also be incorporated. Not only that, but you can also experiment with your own choices and ideas to make your living space more personalized.