Dr. Ashok Bharucha on The Role Of Nature In Fighting Dementia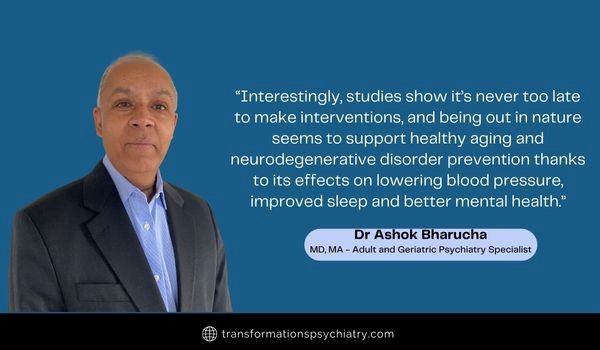 With increased longevity, the number of older adults with dementia correspondingly increases. However, several factors such as lifestyle changes, healthcare, education, and nutrition have helped to reduce age-specific dementia in several countries.
Increasingly, studies indicate that about 40% of dementias could be prevented by implementing 12 modifiable risk factors. According to a Lancet Commission Report on dementia prevention and care, these increased from nine to twelve since scientists identified the risks posed by alcohol consumption, air pollution, and traumatic brain injury. These, coupled with lower education, hypertension, hearing impairment, smoking, obesity, depression, physical inactivity, diabetes, and reduced social contact, when properly managed, may reduce the incidence of dementia.
"We know that several things contribute to healthy aging," says Dr. Ashok Bharucha, MD, MA, an adult and geriatric psychiatry specialist. "Interestingly, studies show it's never too late to make interventions, and being out in nature seems to support healthy aging and neurodegenerative disorder prevention thanks to its effects on lowering blood pressure, improved sleep and better mental health."
Nature Plays a Vital Role in Fighting Dementia
The results of a study on 62 million beneficiaries of Medicare indicate that older adults living closer to green spaces have lower hospitalization rates for dementia, Parkinson's disease, and Alzheimer's disease.
The same study shows that people living closer to dedicated parklands and spaces with oceans or other water bodies also have fewer Parkinson's disease admissions. Still, it does not have the same effect on Parkinson's and Alzheimer's disease-related dementia.
"When people live near green spaces, they have more opportunities to partake in physical activities, reduce their stress levels, spend time away from city pollution, and connect with others," says Dr. Bharucha.
Dr. Bharucha adds, "The results of this study on green spaces confirm what other past studies have shown. It's also more conclusive because of the large sample of aged 65+ Medicare beneficiaries from across the U.S." But, observational studies cannot establish cause and effect.
Nature's Green Spaces Provide the Most Benefits
The study defines green space as an area with dense vegetation that does not have a scarcity of trees. Therefore, it means forests benefit people more than urban parks or farmlands.
"Green spaces appear to provide a more protective effect because they encourage increased activity and a better mental outlook. These both help prevent depression, another risk factor for dementia," says Dr. Bharucha.
Research continues to indicate the role of nature in providing several health benefits that can help fight dementia. "Studies on the effects of air pollution, especially for those living near roads, on human health and the ability for green spaces to lower cognitive decline are encouraging," Dr. Bharucha maintains.
The evidence from these studies shows that greenness provides some protection from harmful exposure to heat, noise, and air pollution for people living near roads, especially for Alzheimer's and Parkinson's dementia.
"Green spaces facilitate healthy activities like social interaction and physical activity, helping restore people psychologically by reducing stress. Reducing stress also improves blood pressure, and older people appear to have better blood sugar levels with physical exertion," says Dr. Bharucha.
Finding Nature
"Not everyone has access to green spaces," says Dr. Bharucha, "but we have seen many cities move to increase these with several developments. Perhaps the mounting evidence from the research will spur more action from local and national authorities to help create areas that help people stay connected with natural greenness."
For those people who don't have natural spaces in their cities, Dr. Bharucha advises, "Get as much physical activity as you can, even if it means visiting parks, blue spaces, and other common areas daily. However, try incorporating as many getaways as possible to visit the country's many hiking trails and forest preserves. Take every opportunity to stay connected with nature and take advantage of the benefits to your health."
Bottom Line
The sooner we start dementia prevention, the better. Prevention and interventions help reduce as many risk factors as possible at every stage, from early life with better education to later life, when we can prevent it by minimizing risk factors. In addition, since so many studies show the powerful role nature can play in mitigating the risk for dementia, then we have nothing to lose by visiting green spaces for their seemingly protective effect as often as possible.