5 Reasons you Should Opt for Window Shutters
Here are 5 reasons why you should get shutter installation for your windows today for various benefits such as an appealing design, protection, and security.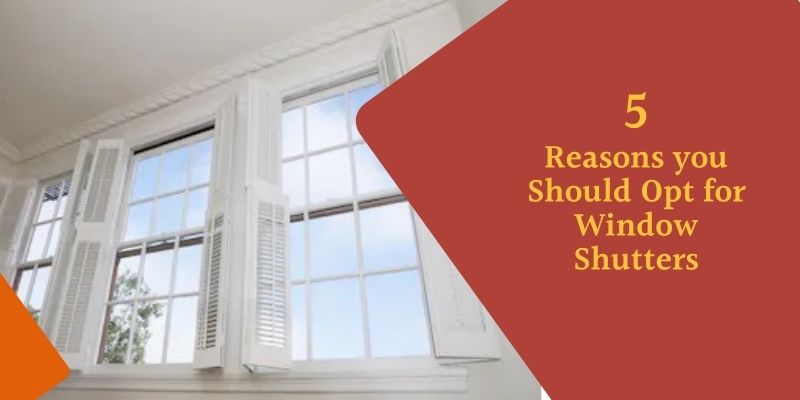 Are you trying to find a window treatment that offers protection and regulates light? You must feel like your large stairwell windows are bare since you didn't decide what to do with them. Shutters that cover your stairwell windows increase the beauty of it. On the other hand, it provides additional benefits as well. Here are 5 key reasons why Shutter Installation is beneficial.
Exterior and Interior Design Appeal
Installing shutters on your stairwell windows makes your home interior look good. It gives your exterior and interior design appeal. People who see your house from the outside see your stairwell windows because they are taller than other windows. Also, installing shutters will make it look unique. This gives your house an overall classy look.
Moreover, shutters are available in different styles so you can pick the best one according to your home look. Installing shutters can also help in giving protection and shielding your house. Shutters block sunlight when they are over the windows, trap air, and protect everyone from the outside world. Also, window shutters come with adjustable rods. This way, you can control the visibility.
Custom Options
Shutters are available in different shapes and sizes. Even if your window is in a round, square, or rectangular shape, you can get the perfect shutters for it. Your window shape doesn't matter, you can get the shutters made according to the size, shape, color, and style of your choice.
Choose a size that is slightly taller and wider than the construction spot when choosing custom shutters. This way, you would have the freedom to hang the shutters in place without limitations by adding around an inch to the final measurements. Also, this will help you in maintaining the shape of your window and keeping it unique.
Privacy and Less Sunlight
By installing shutters, you can control the light coming into your house. It also offers privacy. Depending on your needs, you can easily change the shutter louvers to open or close if your stairwell windows are low and accessible through a landing.
If your windows are high and difficult to access, you can put the louvers in a horizontal position that enables light to flow in and gives household members who are in the upper levels extra privacy. Managing light can also help in the following things:
Nurture Plants
Houseplants need nourishment to grow, and from sunlight, they get most of their nutrients. You can monitor how much sunlight every plant gets through your windows during the day while the shutters are in place.
Decrement in Bills
The temperatures around windows indoors can drop drastically on cold days. You'll get hot air from the HVAC system that flows out of the vents by shutting a pair of shutters. Both heating cycles will be faster if you add shutters and keep them closed sometimes, this way your monthly energy costs will decrease.
Provides Security
There is a lock or bolt-on on most shutters, which provides a layer of security. Both of these elements serve one purpose, which is to hold curtains close after you choose to close them.
Another important advantage is that the first line of protection for a window is a latch or lock. This means that to gain entry to a house, a trespasser would need to crack the lock on the shutters and a window.
Improves Energy Efficiency
Big stairwell windows are classy, but they have the drawback of losing heat. Plantation shutters offer additional insulation and lower energy transfer through windows by up to 45 percent when closed. Plywood shutters are 1600 percent more energy efficient in contrast to standard aluminum blinds. Moreover, make sure to get window treatment once in a while.
Conclusion
In the end, Shutters are easy to keep clean as well. And you won't have to continually change them for privacy or illumination if your shutter louvers stay in a fixed location. Window shutters can provide comfort, retain heat, and boost street appeal.
Also, if you have a home that needs new paneling, visit a local supply store that stocks window shutters. You must do your research for other ideas for your stairwell windows as well as ideas for window treatments.