WIMI's 5G+AR provide a deeper Metaverse Social Immersion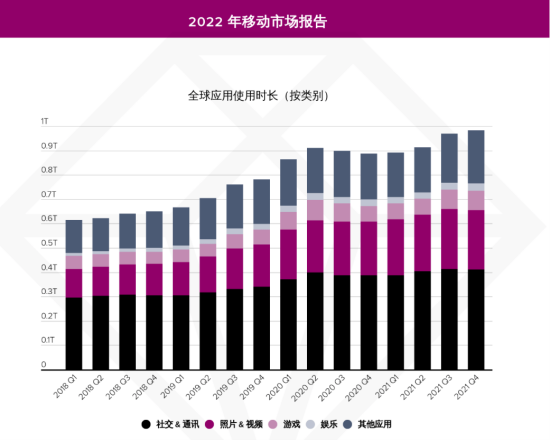 – Under the trend of that global mobile consumers spend 70% of their time being social, WIMI Hologram 5G+AR technology will enhance the metaverse social immersion to a great extent.
According to the Mobile Market Report 2022 the social and communication activities still take the domination position in terms of usage time. The total time that global consumers spending on social/ communications and photo/ video products is about six hundred and fifty billion hours. And 70% of the average time is spent in social and photo/ video these two categories. In another field, the online video and live show APP are also made a great profit especially in the case of global epidemic.  
According to the statistics we can find that the usage time of the top 25 live show apps grew nine times faster than the overall social market- -up 40% year over year, while social apps grew 5%. At the same time, the next major change in social applications could be virtual identities and metaverse. Analysts expect metaverse games to spend more than $3.1 billion in annual app store users in 2022, while the popular ZEPETO global downloads in previous years rose 160% year on year and is creating a new generation of virtual social products.
Enterprises Staring at metaverse
The metaverse has gone from concept to more visible. The metaverse era will reform the applications of all fields based on 5G, AR/VR, AI, cloud computing and some other information technologies. Breakthroughs in metaverse-related technologies may take the lead position in gaming, social and e-commerce. Among them, the trend of social field scene will continue. Metverse may help strangers to social and interest social, and low-threshold creation tools will accelerate the economic growth of creators. KPMG has just released a report on the metaverse, which also noted that the application of the metaverse in dozens of fields, including social networking.
Not to mention, with the rise of Gen Z, the younger social platforms, and the rise of strangers and entertainment, the strong social nature of the metaverse may make social media one of its breakthroughs. By definition, metaverse social interaction will have five characteristics: virtualization, social assets, immersion, economic system and inclusiveness. In metaverse, the construction of online "virtual identity" will make stranger social interaction become one of the mainstream social ways. AR / VR and other equipment technologies will realize the scene construction of embodied communication for metaverse social networking, break the social barriers of screen manufacturing, and help social platforms form an immersive scene.
Under the framework of the metaverse, social networking has become one of the most attractive scenes. With the rise of metaverse networking, many big factories also regard social networking as an important incision in the layout of the metaverse. Meta's ambition to enter the metaverse market is obvious. Recently, Horizon Worlds, a VR social platform created by Meta, has launched a new VR Quest Night for players to create their own worlds and games and share the fun of hosting game nights in VR with others.In addition, Meta announced the launch of the metaverse Art Exhibition series in social Horizon Worlds。
Domestic track, Baidu released the metaverse social product "Creator City".In the virtual space created by "Creator City", it can accommodate 100,000 people to interact with the screen, in which can realize social functions such as making friends, meetings and watching exhibitions.Tencent and ByteDance have also joined the race in the metaverse social space.Currently, Tencent 's "Super QQ show" and byte's "party Island" are both in the test stage. WIMI Hologram, a leading domestic technology company that started its social layout,and is also speeding up its development.
The metaverse era helps to change the scene of social interests
According to public information, WIMI Hologram(NASDAQ:WIMI) as the first advocate and explorer of the metaverse concept, WIMI Hologram metaverse ecological construction tries to build a novel and diversified social metaverse path, becoming a reference template for the industry. WIMI Hologram builds virtual identity, virtual image, virtual space and virtual social networking for users, and creates immersive virtual social experience for users through cutting-edge technologies such as AR and virtual reality.Moving real interest activities into the virtual world is a characteristic of WIMI. With a comprehensive holographic IP rights content library, WIMI Hologram has nearly 5,000 holographic virtual IP rights content on its platform, including holographic animation, virtual live broadcast, virtual idols and virtual social networking. Users can watch movies and live broadcast together.
WIMI Hologram metaverse ecology is precipitated based on social interests, so it has certain "metaverse" technical genes in both product design and function setting. For instance, WIMI Hologram 5G enables a diversity in social game-play. The 5G era application scenarios are sorted out, including cloud, AR / VR, wireless home entertainment, social networking, and so on. With the mature and popularization of 5G, metaverse, HD video, cloud games and other applications, the development of 5G + AR / VR and other equipment technologies is the scene construction for metaverse social networking to achieve physical communication.Therefore, WIMI Hologram 5G + AR creates a virtual space to meet the spiritual needs and have an immersive feeling, which is also conducive to enhance the social immersion of all the people.
It is worth noting that, according to the official report, metaverse has core characteristics such as "digital identity, social attributes and immersion", which can achieve high immersive social experience and rich online social scenes. Under the background of the high popularity of the Internet, according to the survey data, more than 62% of netizens clearly expressed that they are willing to participate in metaverse social in the future, and it is more likely for the national metaverse social. In this way, the dazzling data still shows that these types of social media platforms under the metaverse concept are attractive to young users. In the future, WIMI Hologram will continue to deepen the social field of metaverse, relying on modern technology to apply metaverse to more scenarios and bring more immersive social experiences to users.