Top Digital Business Transformation Trends For 2021
Digital Business Transformation Trends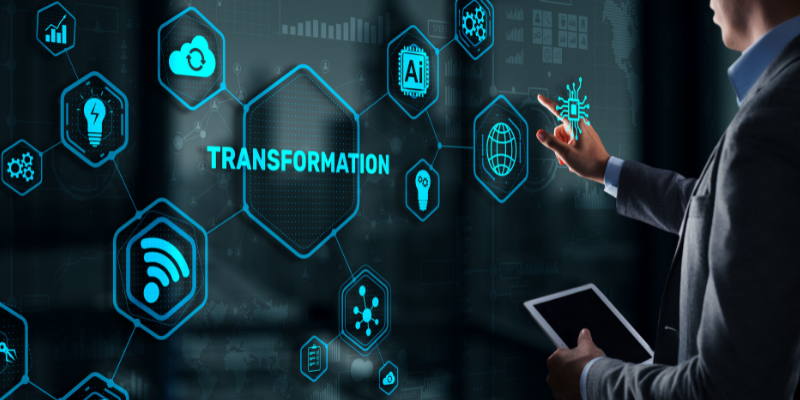 Nobody imagined how 2020 will turn out to be. The last one and half years alone witnessed more digital transformation than the entire decade. Even though digital transformation was underway, it was at a very slow rate. Pandemic led to a drastic increase in the need to go digital for businesses. Those who made a switch to digitization early benefited, while others struggled even with connectivity. 
What made it imperative to have digital transformation solutions was the fast shift of consumers to online platforms. Companies and businesses had to leverage digital platforms to serve the customers and enhance their market presence. How digital transformation changed the business landscape in 2020, integrating technology will bring many changes this year as well. Digital transformation will become imperative and investment in this will amplify for sure. Let's dive in to see what trends will follow businesses in 2021 with the digital transformation. 
1) 5G revolution.
5G has been in the news for quite some time now but its need was not realized until everything shifted to online mode. With the jump in video conferencing, remote working, online business, and digital collaborations, reliable and fast connectivity became a real need. 5G will become a vital solution to high-speed connectivity need to provide 24*7 customer services along with enhancing the digital experience for customers.
2) Blockchain in the mainstream
Blockchain was earlier associated only with cryptocurrency but now blockchain is adopted in many industries. From financial institutions to insurance, healthcare, retail and consumer goods, automotive industries, blockchain is making an entry everywhere. Not just the industries but the governments are also exploring options to use blockchain for electoral systems and voting. It will play a crucial role in cybersecurity as well.
3) Explosion of CDP
Customer Data Platform or CDP has seen a boom with everything shifting online. It gets difficult to organize the fragmented data especially for businesses who rely on them heavily. Data has become a powerful tool for companies to capture the market and establish themselves. From high-end marketing to using advanced technology like AI, machine learning, data is the king of all.
CDPs help in collecting data from various sources, organize it, tag it and make it usable. Several companies like Microsoft, Adobe, Oracle, Treasure Data, etc. have already started investing in creating a market with powerful CDPs. 
4) Hybrid Cloud
While some companies are moving to the cloud there has been a rise in the hybrid cloud infrastructure need as well. Hybrid cloud infrastructure has been increasingly adopted by companies as it helps them to strike the right balance for their cloud needs. It enables them to distribute their assets, applications, and software across multiple cloud platforms. Large public cloud providers like Google, Azure, AWS, Oracle, and IBM have invested heavily in hybrids. Companies like Cisco, Dell, HPE, and OEM have also invested in the development of tools that enable simple connectivity between the cloud and on-premises data centers.
5) Cybersecurity
With everything shifting online, the need to have a vigilant and secure network has increased for businesses. Having a robust cybersecurity practice will be the priority for every business that is running on the web. During the pandemic, banks experienced a 238% rise in attacks while cloud server attacks increased by 600% in 2020 from January to April alone. AI and machine learning will be used in this field to develop more sophisticated algorithms and tools, intrusion detections, and firewalls. Software, hardware, and cloud makers will amplify this effort and bring products with more security embedded in them.
6)
Privacy and confidential computing
Confidential computing will be another new approach to cybersecurity. Confidential computing encrypts not just the data but the entire computing process and creates an additional layer of security for sensitive data. Through the Confidential Computing Consortium; Microsoft, Google, Alibaba, IBM are helping in the development of new protocols and practices for this infant technology.
7) Headless tech
Headless tech simply means the separation of the back-end data functionality from the front-end presentation layer for creating a custom shopping experience. According to researchers, 86% of companies reported an increase in customer acquisition costs in the last 24 months. It has become more important than ever to focus on customer experience and work on retention. Companies will become more streamlined and efficient by moving beyond the existing omnichannel experience for customers through this technology.
8) Automation
Automation will be at the core of a lot of businesses- both B2B and B2C, as customers continue to buy online. Automation will be the foundation of most digital transformation solutions in the future. Businesses will be required to automate everything- from the application to the cloud layer. With AI, robotics, and machine learning integrated into the business, businesses will be able to automate the Enterprise Resource panel model for better growth. 
9) Remote working will outlast COVID
Even after the ease of lockdown and COVID restrictions, companies will continue to operate remotely for protecting employees and resurgences. The rapid development and deployment of applications like Zoom, Microsoft teams, Webex, etc made the work from home easy. With the significant growth of work from devices, better connectivity, and technology, companies have seen growth despite working remotely. 
10) Quantum in the mainstream
Quantum computing is witnessing unprecedented growth, with partnerships like Honeywell and Microsoft; Splunk and Quantum Computing Inc. It proved to be very helpful in the efforts to manage the widespread disease and the development of vaccines in the past year. Because of its ability to easily monitor, analyze, and act on data at any time, quantum computing will find use cases in many industries. In the coming years, quantum computing and traditional computing will be brought together so that apps and software can run in familiar environments.
COVID 19 changed the pace of digital transformation completely. This will continue to trend in 2021 as well. The digital transformation solutions will be the priority of all organizations to focus on growth decisions and investments.