Top 10 DIY Patio Cover Kits Providers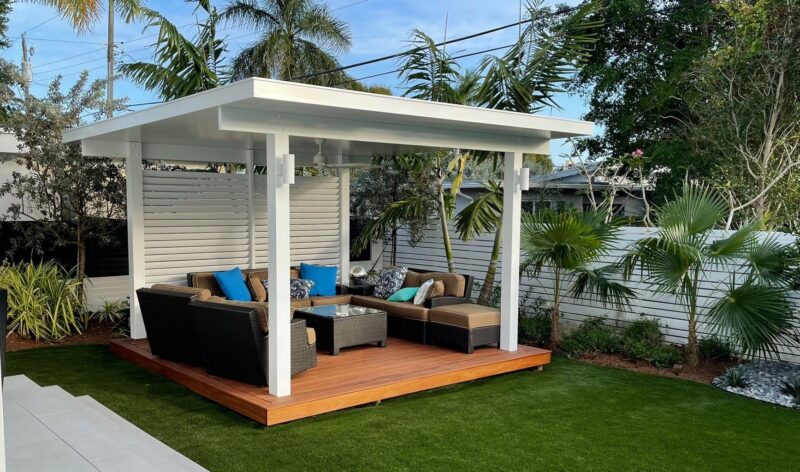 Creating an appealing shaded outdoor living space to enjoy in the hottest months is easier and cheaper than you think. DIY patio covers made with aluminum are low maintenance and add significant value to your home.
According to customer reviews, these are the top 10 DIY patio cover kit providers offering high-quality, durable, cost-effective, and maintenance-free patio covers.
1.
Alumicenter Inc
Reviews show that Alumicenter continues to maintain its top place in the realm of patio cover kits providers. The leading DIY patio manufacturer is based in Florida where they craft their high-end exterior patio design solutions from the highest-quality aluminum materials. Since 2004, Alumicenter have been providing external cover solutions in Florida, and are now the leading distributors of high-quality budget DIY patio cover kits.
Alumicenter Inc is known for its popular snap and lock insulated panels, ensuring easy installation. All the DIY patio kits are also freighted with an easy-to-use installation guide. Use their 3D roof kit visualizer and get an Instant Quote for an economical solution for your outdoor spaces. Whether you seek a custom design or a ready DIY solution, you are sure that the insulated roof panels are built according to the strict building codes of Florida and carry state approval.
Quality assurance comes in the form of the Florida quality approval certification that meets the state's hurricane requirements. Alumicenter Inc also offers site specific engineering for projects of any size. 
2.
Try-Tech Patios
Try-Tech Patios makes it easy to design, order, and install various Alumawood patio cover kits made in the US. According to customer reviews, the company ensures each type of cover is accompanied by easy building instructions. The company also offers unlimited email and phone support. Typically, installation takes no more than a weekend. Try-Tech Patios does not currently ship or deliver but has pick-up locations in California and Arizona.
3.
CQC Outdoor Products
CQC is based in China and produces high-quality aluminum frames and polycarbonate sheeting for their canopies. These patio cover kits offer you the ability to use your patio in the summer and winter thanks to the high-density polycarbonate that is impact-resistant and resilient. The patio covers carry a 10-year guarantee thanks to the strict quality control enforced by CQC. Products can be customized, are easy to install, and can ship quickly worldwide. The company does offer technical support.
4.
Patio Kits Direct
Get a 3D patio cover quote once you design your patio with the Augmented Reality tool provided by Patio Kits Direct. The custom options of the three designs allow you to choose the Alumawood color, tail end caps, and other add-ons. The California-based manufacturer has several pick-up points in the state but also freights to other areas. Their DIY patio covers are quick and easy to install, but if you do hit a snag, a real contractor can provide live support. 
5.
Screen House
With Screen House's Roll Form flat pan aluminum systems, you get a versatile covered area that protects your home and allows you to enjoy the outdoors. These ready-to-install kits are economical and available in three lengths and gages. They are engineered to meet local code requirements allowing them to withstand all types of weather conditions. Available in several colors, the kits come in fixed and custom sizes, and are shipped to your door.
6.      Aluminum Specialties
The wholesale division of Aluminum Specialties Manufacturing, Inc. provides aluminum components for patio covers, awnings and canopies. Wholesale components are custom cut and can be picked up or delivered, for an additional fee. The company goes as far as to make use of experienced designers to help customers realize their vision for their patio.
7.
Patiocovered
Customer reviews indicate that Patiocovered, the Los Angeles-based seller of Alumawood patio cover kits, sells high-quality aluminum kits that resemble and feel like real wood. A beautiful and economical patio is easy to complete thanks to the installation guides provided and free support. All you need is your tools!
8.
Home Porch & Patio Kits Inc.
Home Porch & Patio Kits provides DIY solutions for the creation of outdoor spaces. These are custom designed and produced according to the needs and loads required by your home and state. In their range of patio covers are the popular and cheaper "W Pan" aluminum roll-formed and the traditional insulated patio cover. They both provide an economical and dependable structure that offers UV protection for you and your home.
9.
Alumashade
Alumashade allows you to visually design and then build a patio cover from scratch. Once you get the kit, it is easy to install. Reviews indicate that customers receive amazing support throughout the process, from design to completion. The range includes solid, lattice, and adjustable cover kits.
10. Mike Manufacturing
Based in Warren, Michigan, Mike Manufacturing ships the easy-to-assemble aluminum patio cover kits in its range nationally. The company has a long history in the manufacture and supply of aluminum products for the building and home improvement market.