SKG Honored with Proclamation from The City Of Los Angeles.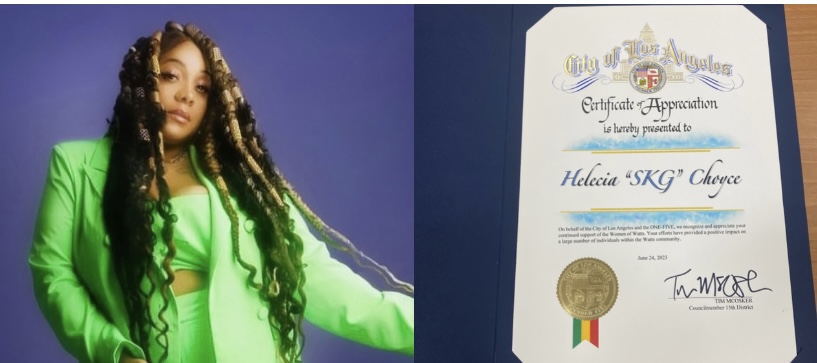 The city of Los Angeles in partnership with "The Women of Watts" celebrated "SKG" ( Helecia Choyce ) Saturday, June 24, 2023 with a proclamation, in honor of the community work contributed by the rapper. SKG recognition comes just before the 50th anniversary of hip-hop, which also celebrates SKG contribution to the Hip Hop Culture.
Los Angeles city councilman 15th District, Tim Mcosker along with " The Women of Watts" presented "SKG" with the certificate during the 20th Annual "Stop The Violence" March. Empowering change through unity which took place BET Weekend. Women of Watts is
a prominent community organization dedicated to strengthening and building the family structure, mentoring, and supporting families through raising awareness and forming strategic alliances with humanitarians such as SKG ( Helecia Choyce ) who main focus is uplifting and helping communities.
Under the dynamic leadership of esteemed community activist Lydia Friend, Women of Watts and Beyond has been steadfastly working towards putting an end to violence and fostering positive change within the Watts community. Since its inception in 2003, this remarkable organization has strived to serve the community in multifaceted ways, including providing meals, organizing holiday giveaways, offering mentorship programs, and advocating for transformative initiatives to benefit the residents of Watts.
Notably, Helecia Choyce better known as former Death Row Records Artist SKG, holds a significant role as a brand ambassador for different organizations helping the community. Her invaluable contribution lies in actively advocating against community violence, utilizing her influential voice and platform to raise awareness and to foster positive change.