Marketing Presentations: Tips To Grow Your Business
Marketing isn't only to drum up a new business. It's used within a company to infuse purpose in the employees. Marketing also institutes an existing or different business strategy for a company to utilize in dealings with customers and vendors.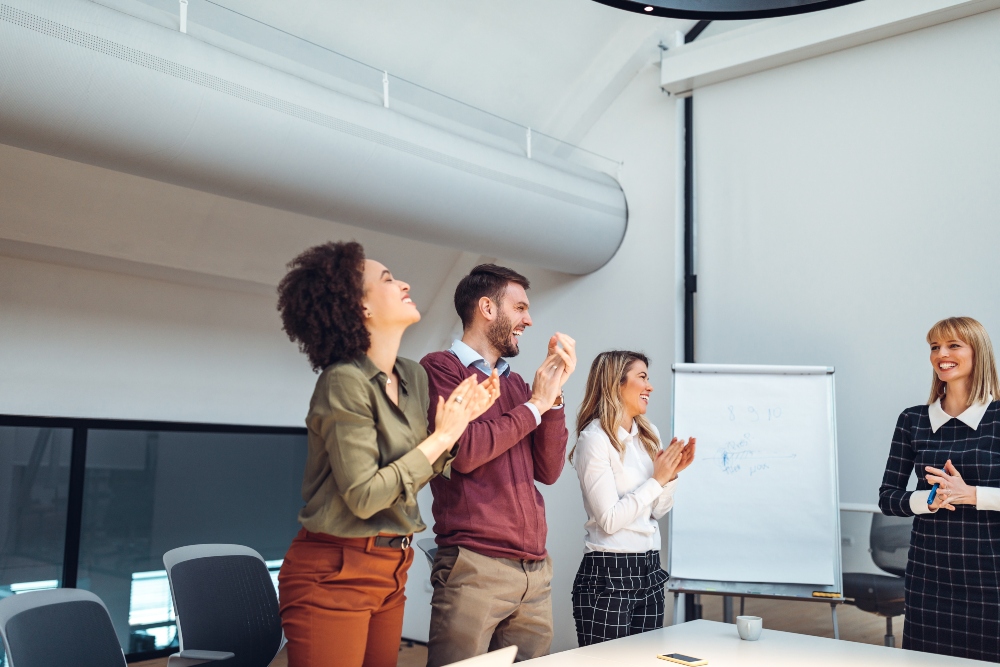 Combined, marketing presentations grow your business. Whether it's to retain existing employees or bring on new clients, what is placed within one of these demonstrations must have the power of influence. Here are some tips on how the right marketing presentations can help you increase your revenue, attract more customers, retain your current clients and grow your business overall.
Do Your Homework
A thorough analysis is the foundation of a stellar presentation. I'm not going to coat it with sugar; this stage will be the most intensive of your entire presentation method. I caution everyone, especially first-time speakers, never to ignore this process.
It can be daunting to dive into a new business strategy blindly. That's why starting your new business model with two goals in mind is best:
Seeking your clients' attention.

Understanding your viewership
Now, when you get started with this, if you decide to take online classes or even a free webinar, think, during a thirty-minute or one hour webinar, think about how much the audience retains, how much effort it takes to the speaker to catch your attention and keep it for at least a few minutes while he makes his point across. Now, think about your audience.
There is a long way to go when it comes to catch and retain attention, but with the proper tools and resources and a lot of charisma and luck. It would be best to entertain your audience during brief business interactions, social media posts, phone calls, text messages, and direct mail. The trick is to know-how.
Attention Span, Delivery, And Other Factors.
Attention decreases every day nowadays; it is even less than what you thought. Dr. Carmen Simon, a cognitive scientist, performed a study from the PowerPoint viewpoint on the intersection of cognitive science and communication and found that participants remembered and averaged four slides from a 20-slide, standalone, text-only PowerPoint presentation.
Narrowing and streamlining your speaking engagement around a specific topic will help keep your audience engaged. A focused presentation has well-defined boundaries. It's not trying to do anything about a subject. 
It's clear, concise, and it delivers on its stated objective.
Your aim should be to focus all of your content, including your PowerPoint slides. Pay attention to the number of slides included in your presentation and the slides' format and design. This will place more emphasis on you, the presenter.
Remember, your knowledge, skills, expertise, and understanding set your presentation apart from the others. Researching where you're talking and who you're talking to is key to knowing your audience. This is especially true of social media presentations due to the wide range of adoption and skill levels.
Get To Know Your Customers
You cant increase your client base if you don't know who your customers are. This means your marketing can't be generic. It has to fit each customer differently. Doing this helps you reach a specific audience.
For instance, If you want to work with a company like KDB insurance, you would focus your marketing on their many coverage forms. It could be a wide span or something specific like tenant insurance in Montreal. Your promotions wouldn't be related to filing claims against insurance agencies.
Not only must you know your customers in their current incarnation, but you also need to figure out what they want to be in the future. With this information in hand, you can market the solutions required for today and when they decide to make a change. It keeps you in their mind beyond the introduction.
Become Subject Matter Expert
Snazzy graphics, animations, and bold colors aren't all that a marketing presentation should have. It also needs to provide well-research topics related to the company you want to work with. To make this happen, those who run the presentations must become subject matter experts (SMEs).
Though your representatives don't need 10,000 hours of study, they need to know what they're talking about during a marketing presentation. There are bound to be questions from prospective clients. If salespeople can't provide the answers or give the wrong information, then a client is lost.
Representatives can't pretend they know an answer to a question. That makes the company look bad if what they said doesn't come true. The potential customer will feel more secure about your company if, during a marketing presentation, your representative says they don't know the answer but will research it and return it to them.
Measure What Works
Presentations aren't 100% correct at the outset. Though research is done during its preparation, some items work quite well and fall flat with current and potential customers. Using it repeatedly with representatives from different industries won't help gain customer loyalty.
Therefore, each time a presentation is made, the results need to be measured. The presenters shouldn't do this as they could be biased without realizing it. Instead, once the presentation is complete, have the clients fill out a survey form and detail what did and didn't work.
Make necessary changes per the volume of responses. If a single person mentions one area, it's probably your salespeople's judgment if it needs to be changed. However, if most viewers say a particular area, you need to make a change.
Keep doing this for each current and potential client you work with. Additionally, realize that the presentation will never be perfect. It is always a work in progress.
Be Ready To Act
Every opportunity you have to interact with someone is a great chance to employ all of the tactics to mention and even promote your business, even if these are not your prospective customers.
Practicing your pitch will give you enough confidence and practice to get better in your delivery when the real-time to talk to the prospective client comes. You can even practice in front of the mirror, create mock presentations, talk about it to your friends and family, etc. And it will go fast, and delivery is a crucial factor for successful marketing.
There is no stopping how far your training can go, sources, seminars, webinars, online coach, live coaching, etc. Learning to deliver efficient and entertaining marketing presentations has quickly become one of the fundamentals tools of 2021, and it is your job to get well-versed in such activity to help promote your business.
Marketing presentations are just the starter engine to move forward with a client. Making things happen that is mentioned is what drives things forward. Never assume a client needs to think things over for a long time before making a decision. They might be ready to take the initiative right after the last slide is presented.
Thus, your company needs to be ready for them. You should always be pro-active with clients, even if you believe they won't be willing to sign a contract. Though you might have done the necessary research on them, you don't know how fast things will turn around. They'll be impressed if you can take what's presented and make it real in a short period.