FightPandemics, the platform that matches volunteers and people in need during public health crises
FightPandemics has launched the world's first 'altruistic' online platform where individuals and businesses can connect, request and provide voluntary services.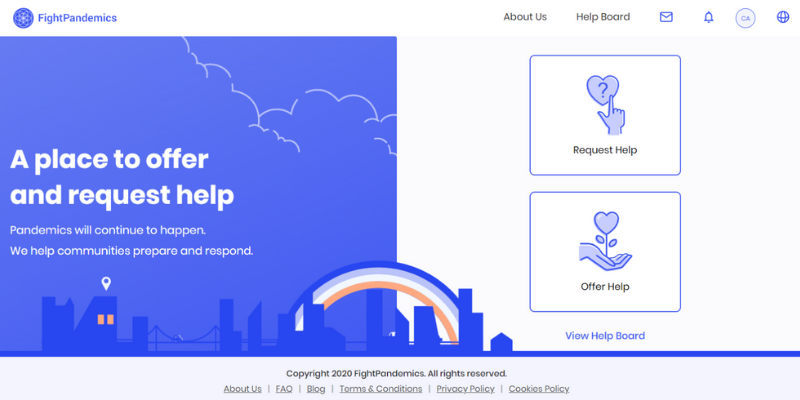 FightPandemics has launched the world's first 'altruistic' online platform where individuals and businesses can connect, request and provide voluntary services. The newly launched website is available in more than 20 languages and aims to be the go-to place for anyone in need, whether they're seeking medical information, donations, legal assistance, PPE, groceries, or help with their day-to-day activities. Individuals, organisations and governments can find up-to-date information, publish offers and request help anywhere in the world.
The story behind FightPandemics comes from the experience of its Founder, Manuel Gonzalez Alzuru who caught Coronavirus after attending a business conference in March 2020. Upon returning to his home country of Spain, Alzuru faced an uncertain time; like many others, he struggled to find support at a time when local authorities raced to understand the novel virus and public panic was rife with short medical supplies, food hoarding and scant information. While a number of mutual aid groups later emerged over the course of the pandemic peak in Europe to help those in need, Alzuru found their resources to be constrained by the lack of a centralised technology platform to oversee the exchange of volunteer services, leading to slower response times or individuals missing out.
This is when the idea of FightPandemics began to take shape. Alzuru set out to simplify the mutual aid process via a single place where individuals and businesses can request any type of help and support each other quickly. According to Alzuru, "Information sharing and well-connected communities can save lives. We want to ensure that every offer of help is matched to a need and every request for help is met with a response; now and in the future."
9 months later, FightPandemics has gone live with a community of 1500 volunteers from over 70 countries who have contributed tens of thousands of hours to help create the platform. As well as volunteer input (and over 6,000 volunteer applications), the platform has attracted donations in the form of software credits, subscriptions and resources that equate to a value of over $1m from major brand names such as Amazon Web Services, Workable, Notion, Verify, Zendesk and Slack. As Alzuru states, "we have already received so much positive support from our partners and volunteers without even raising a single dollar in capital. This is evidence there is a strong belief in our cause and community support for FightPandemics' mission."
The open-source platform can be used by any individual or business for free. After creating an account, users either request or offer help based on their location for a specific duration. A person in need of help is then automatically matched to a relevant volunteer based on the criteria entered; for example, a person sick with Coronavirus symptoms who needs groceries can find nearby delivery volunteers or a business looking for work-related services can find individuals offering their skills anywhere in the world.
While FightPandemics was launched in response to the current pandemic, the platform has a broader appeal for helping individuals, communities and organisations facing any type of situation that requires an exchange of voluntary support. As the user base continues to grow, FightPandemics plans to extend its functionality to help individuals affected by other types of humanitarian crises such as climate change and natural disasters. The company also plans to undergo a capital raising exercise and build a team of full-time, dedicated employees to see through its future vision.
Contact information:
Manuel Gonzalez Alzuru, Founder, FightPandemics – [email protected]