Factors Influencing Teenagers' Choices in Fashion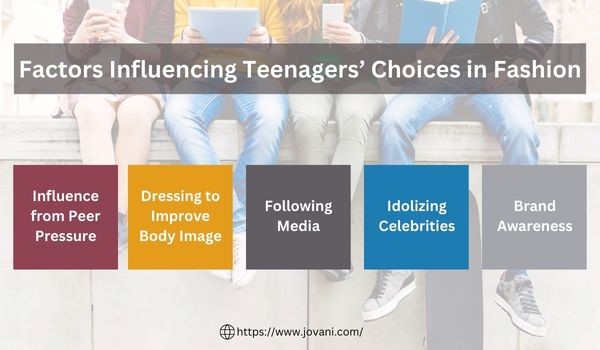 One survey of 7,100 teen respondents showed that teens spend more money on clothing than anything else. Food came in a close second with 19%, but they spend 20% on what they wear. Teenage girls spend 29% between genders, whereas boys fall to 16%. 
Teenagers love to look "hip" and follow fashion trends closely to ensure they are always in style. Several factors affect their choices in fashion, whether they want to look good for school, need a trendy piece for an evening outing, or want an outfit to shimmer in at their prom.
1. Influence from Peer Pressure
Peer pressure affects many teenagers' daily choices, including how they dress. Teenagers hate feeling inappropriately dressed since they fear their peers will mock them or lose their friends.
The need to fit in is one of the reasons they enjoy shopping together at malls or consulting each other before deciding what to buy online, especially if they are shopping for a party or event. In addition, teenagers duplicate fashion more religiously than any other age group, mirroring style. It helps them boost their self-esteem, and they believe it is the best way to keep their friends.
"As prom season approaches, we see the need for affirmation and belonging in a peer group quite a bit," says Saul Maslavi of Jovani Fashion. "However, teenagers have excellent fashion taste when choosing their prom dresses."
Jovani Fashion has an exciting range of prom dresses in trendy styles featuring the latest gorgeous fabric with accent details. They renew their popular styles annually with the latest finishes and trends to ensure every girl can find her dream gown and make a fashion statement.
Prom season for 2023 promises lots of sparkle, ruffles, feathers, cutouts, and bright colors in the ever-popular gowns of choice, including mermaid, off-shoulder, one-shoulder, and ballgown dresses. Dressy jumpsuits have also become a firm favorite.
2. Dressing to Improve Body Image
Girls are particularly susceptible to the influence of the media on their physical looks. They want to dress like the models they see in magazines or their favorite influencers. Unfortunately, these influences can lead to unhealthy lifestyle choices.
Over the last few years, the media and clothing companies have taken significant steps to help portray a healthier image and acceptance.
American Eagle Outfitters and its sister company Aerie have paved the way in the body positivity movement with realistic sizing ranging from petite to larger sizes.
3. Following Media
Teenagers like to stay informed about upcoming trends, and they do this by reading the latest magazines and following their favorite fashion designers and influencers on social media. Once teenagers see a look they like, they will copy it as closely as possible.
One magazine cover can send teens out in droves looking for the latest Nike or Adidas sneakers, a particular pair of shorts or boyfriend jeans, or a Gap sweatshirt.
4. Idolizing Celebrities
Teenagers look to the celebrities they love for fashion inspiration since they consider their beauty ideal. Just by wearing an outfit, a star subconsciously alters how a clothing item is perceived ideologically, positively impacting the brand.
According to Google searches in 2022, the favorite fashion icons of America included Zendaya, Ariana Grande, Billie Eilish, Kim Kardashian, Kendall Jenner, and Lady Gaga, but not only.
When teenagers see their beloved celebrity dressed in something they like, they buy the same or a similar outfit to look like them and show it off to their friends. Stars provide the external stimuli craved by teenagers. Therefore, they even follow their hair and makeup trends very closely.
5. Brand Awareness
Teenagers love brands because they feel cool when wearing them. In addition, they think these designer clothes help them be more socially acceptable to their peers. Therefore, they like to make brand-oriented decisions when they shop, including frequenting shops that sell high-end designer clothing. But, unfortunately, they also worry that they won't fit in when they can't afford these clothes.
Fast fashion retailers like H&M, Amazon, and Zara allow them to add basics to their wardrobes at more affordable prices. They can then splurge more on fancier items like prom dresses, favorite sneakers, and jackets.
Final Take
Several factors influence teenagers' fashion choices, but peer pressure and celebrities play the most significant role. Trends come and go, and teenagers passionately embrace each one, expressing themselves through the latest looks. Finding their sense of self takes time, but fashion helps them bond with their peers and forge their identity.