BLOSSOM RECEIVES TRANSFORMATIVE GRANT FROM JUNIOR LEAGUE OF BATON ROUGE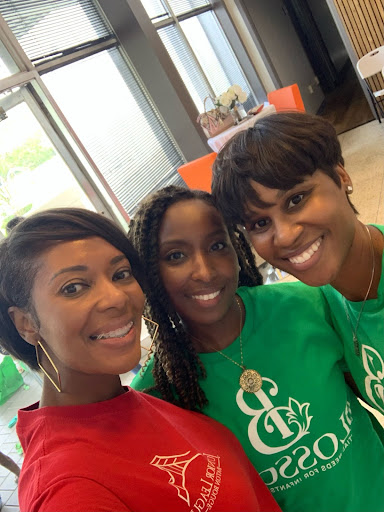 Baton Rouge, LA – Blossom proudly unveils its recent acquisition of a $4,000 grant. This monumental support, generously provided by the renowned  Baton Rouge Junior League's Community Assistance Fund, is a financial boost and testament to the unwavering faith in Blossom's mission.
A Vital Collaboration for Lasting Community Change
Jessica Guinn Johnson, Baton Rouge Junior League President. and Blossom Founder/Executive Director Shelita Smith
This union embodies the mutual dedication of two Baton Rouge organizations committed to driving lasting improvements in their shared community.

Blossom's Vision and Origins
"We are truly honored and humbled," expressed Shelita Smith, Founder and Executive Director of Blossom. "The Baton Rouge Junior League has continuously uplifted our community. This grant is more than a financial boost; it's a union of ideals and the shared dream of a better Baton Rouge."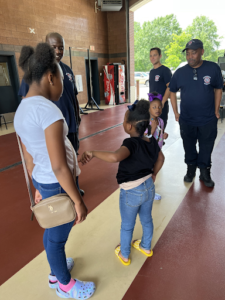 Blossom's inception was deeply personal. Born from Smith's resilience and life experiences, it stands as a beacon for children facing emergency circumstances. 
From equipping students with necessary school supplies to fortifying partnerships with first responders, Blossom continuously works to ensure the community's youngest members are seen and supported.
"Every child deserves a chance to thrive," Smith asserts, "And the transformative impact of this grant will enable us to reach even more children in need."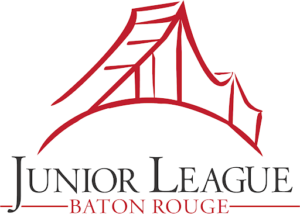 Junior League of Baton Rouge: A Legacy of Transformation
Spanning numerous decades, the Junior League of Baton Rouge's footprint in community development is undeniable. Their holistic focus on health, education, and cultural development has transformed countless lives. With initiatives ranging from the vast Diaper Bank to the innovative Painted Playground project, their commitment to Baton Rouge shines unmistakably.
"A shared vision for positive change is the essence of the Baton Rouge Junior League," voiced a senior representative. "Aligning with Blossom amplifies our mutual goals. Together, we can propel our community into a brighter tomorrow."
"Every penny invested in our community's most vulnerable youth is an investment in a stronger future," Smith reiterates. With the Junior League of Baton Rouge and Blossom joining forces, that future will undoubtedly be brighter than ever.
Deepening Impact and Future Directions
The implications of this generous grant stretch beyond the immediate. For Blossom, these funds symbolize the chance to touch even more lives, furthering their mission of empowerment and hope. The collaboration also represents a significant community endorsement, amplifying their mission to wider audiences.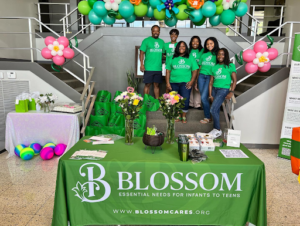 Smith, reflecting on Blossom's journey, shared, "Our mission transcends providing tangible goods. It's about instilling hope, fostering community ties, and igniting lasting change. With the Baton Rouge Junior League standing alongside us, we are reenergized and ready for the challenges ahead."
"I know our partnership with Blossom will bring about lasting community change," asserted the league's senior representative. "This grant is just one step towards realizing a brighter, more equitable Baton Rouge for all."
About Baton Rouge's Community Landscape
Louisiana has witnessed its share of trials, but organizations like Blossom and the Baton Rouge Junior League have consistently risen to the challenge, working diligently to uplift and empower. The synergy of these two groups showcases the power of collaborative efforts, illustrating the community's ability to rally, support, and overcome.
"We are committed to continuing our work in Baton Rouge," Smith affirmed, "This grant is another step towards building a stronger, more resilient future for all our community's children."
How the Community Can Amplify This Initiative
The call to action for the community is clear. As these organizations join forces, residents and businesses alike can bolster their efforts. From volunteering time to financial contributions, every gesture, no matter the size, makes a difference.
Smith added, "It's not just about us; it's about Baton Rouge. We welcome everyone to be a part of this transformative journey. A journey that will leave an indelible mark on our community for generations to come."
Further Information:
About Blossom:
A staunch advocate for children in Baton Rouge, Blossom focuses on providing essential resources, building community partnerships, and ensuring children from all walks of life have the support they need.
About The Junior League of Baton Rouge:
With a legacy spanning numerous decades, the Junior League of Baton Rouge is unwavering in its mission to promote women's leadership, volunteerism, and a lasting community impact.
For Media Inquiries and Interviews:
Blossom:
Phone: (225) 412-9847
Email: [email protected]
Junior League of Baton Rouge, Inc.

Phone: (225) 924-0298